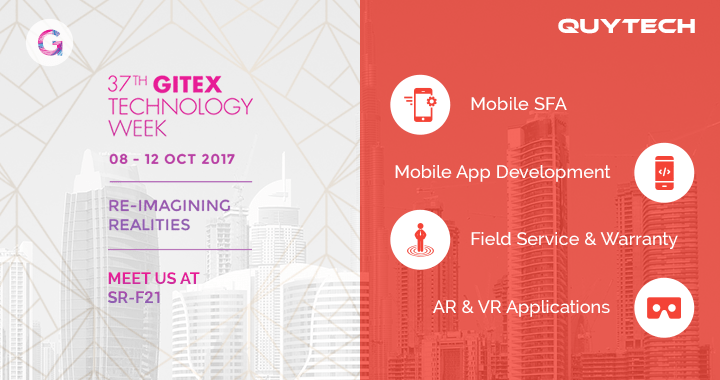 Discover, transform, innovate… The 37th GITEX Technology Week is coming to the Dubai World Trade Centre from 8 October 2017 and Quytech is ready to see you there.
What Should I Know About GITEX?
Supported by global giants, including Toshiba, Lenovo, Cisco, and Huawei, with 150 000 attendees and 4 500 exhibitors from 97 countries, this game-changing event is a must for any business which is serious about taking its goals into the technological future.
So, GITEX brings together IT professionals, business leaders, and tech pioneers, helping drive some of the world's most advanced technology and fostering digital transformation. It aims to create an engaging, immersive experience for exhibitors and consumers alike, allowing consumers to meet their challenges head on, develop future strategies, and drive digital growth to new heights.
Find out more on the GITEX website here.
What Quytech Brings to GITEX and the World
Quytech offers a host of mobile app development strategies and services to enterprises and startups. Our mobile consulting services help you make the best decisions for your mobile app needs, always taking into account your budget and end goals. Quytech will be with you from conceptualization to deployment and beyond.
We offer services and solutions for:
Mobile apps
Enterprise-level mobile app demands
Virtual reality
Augmented reality
Field service management
Warranty management services
Mobile SFAs (find out more about PepUpSales, our enterprise mobility sales solution here)
And much more
Quytech's Achievements and Experience
With a rich seven years' history behind us, Quytech has over 150 successful mobile apps under its belt, spanning 12 countries and 20 industry fields. Our customers range from household names, such as Deloitte, Honda, Volvo-Eicher, and Harvest Gold, to entrepreneurial startups. We are consistently ranked among the 20 most promising enterprise mobility companies by the CIO review, giving you the peace of mind of knowing that your app development needs are in safe hands.
You can find out more about Quytech on our website or get in touch with us directly to discuss your needs.
You will find Quytech at GITEX in the Sheikh Rashid Hall, India Pavilion, in stall SR- F21 where you can meet with our founder, Mr. Garg, to personally discuss your future app development and virtual reality needs.
GITEX runs from 8 October to 12 October 2017 and we hope to see you there. Come meet the Quytech team and watch your business app needs soar to the next level!