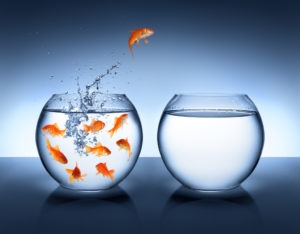 The world is going mobile. What was just a vision 10-15 years back has become reality today. According to Ericsson, there are 2.6 billion smartphone users today. And the figure is expected to reach 6.1 billion by 2020.
One of the biggest reasons behind people going gaga over smartphones is the rise of mobile apps. Apps simplify our personal and professional activities, and make communication easier, so they have become a must-have tool in today's digital world.
According to Statista, total worldwide mobile app downloads will reach 268.69 billion by 2017. In 2009, this number was just 2.52 billion which means a growth of almost 268%!
Economics theory says, when there is demand, there will be supply. So, a good number of app-based startups have cropped over the last couple of years to satisfy the rising needs and to solve major problems with simple, easy to use solutions.
We put together a list of apps from five different industries which are practically reinventing how those sectors work. Read on to find out what apps made our list and how they are transforming their industries.
Food
Zero Percent
Zero Percent is a Chicago-based startup that puts surplus food to good use. Restaurants and retailers can list their leftover food on the Zero Percent app as a food donation. The system automatically sends alerts through email and text to volunteers at nearby shelters and soup kitchens to inform them what is available.
The startup takes care of the pickup and delivery of the food. Its software comes with reporting and analytics features that help users waste less. Moreover, the app tracks donations made so that those organizations can take tax deductions.
Coffee
Drip App
A London-based startup that is working on making the coffee purchase process more efficient, their app connects coffee drinkers with independent shops throughout London.
It offers different pre-paid coffee plans to expedite the coffee purchase process at their partner locations, and by signing up on a subscription basis, customers can access their favorite coffee at discounted prices.
The app is available at more than 100 locations and the startup is on a mission to become the biggest network of independent coffee shops in the world in five years.
Retail
It is a customer loyalty app that helps shop owners offer customized rewards to their loyal shoppers. The merchants can also access powerful insights, such as shopping habits, which help to design an even more effective customer loyalty program.
The app comes with social media integration and offers gamified user experience. It uses QR technology to increase word-of-mouth adoption and drives repeated use by customers.
The Belly app is available on both iOS and Android platforms and connects more than 12,000 businesses with over six million people in cities near and far.
Laundry
Washio is a Los Angeles-based startup that offers on-demand dry cleaning and laundry services at your doorstep.
Users can schedule laundry pickups and deliveries through the app. Washio's team will then collect the laundry, have it cleaned, and will deliver it back at your doorstep within 24 hours. Users can also set a preferred date for deliveries as per their convenience and availability.
However, customers need to place a minimum order of $30 and 15lb for the wash and fold service, and also have to pay a $5.99 delivery charge. The app is available on both iOS and Android platforms, and covers six cities in the US.
Travel
Spot was developed by Luke Groesbeck, co-founder of a Y-Combinator backed startup, as the go-to tool to find the best spots in the world.
It is a network that curates recommendations from user's friends and experts and helps them save spots that they want to go to, or frequently visit, based on those insights.
According to Groesbeck, the app nullifies the pain of the travel research process such as asking friends, going through reviews from strangers, searching for maps and travel directories online, and manually building the lists themselves.
The app is available on both iOS and Android, and currently covers 14 major cities in three countries, such as New York, Paris, and London.
So, have you used any of the apps mentioned above? Do you have any favorite that you would like to add here? Let us know in the comments below.
App Development Consultant Service   Inquire now