Now a days mobile are on fire and according to a Flurry survey, 90% of time on mobile is spent on apps. The research found American consumers spent, on average, 3 hrs and 40 minutes per day on their mobile devices. In just six short months, the average time American consumers spend on their phones each day increased by 43 minutes.
According to the survey, only 10% of the time spent on mobile is spent in the browser and the rest of the time, 90% are spending on apps.
Have a look at the chart below of time spent on mobile is spent in the app.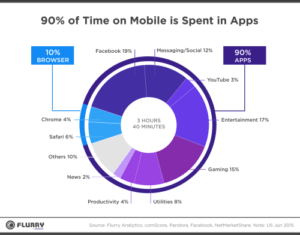 Time spent on apps which came out from this report are:
When asked about Social, Messaging and Entertainment apps (including YouTube) account for 51% of time spent on mobile.
According to the survey, a mobile user spends approx 14% of mobile time spent on Productivity, utility & news apps.
15 percent of mobile device time was spent on gaming. According to this data, this year is the dramatic decline in time spent for mobile gaming. Mobile gamers average 33 minutes of mobile gameplay per day.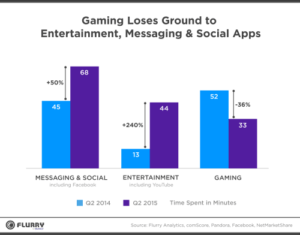 For detailed finding's check here