Artificial intelligence is no more constrained to the limited spheres of the market. In the past couple of years, it has gained great momentum. This advanced technology is helping to manage the huge data and simplify complex problems. AI have emerged to assist the businesses in different verticals to work smarter. In this article, we will go through different categories of artificial intelligence and utility. With different types of AI, business is comprehensively gaining potential impact in the future.
The rapid growth of AI has introduced big triumphs that are an inevitability in every sense. The powerful capabilities of AI transformation helped the industry in maxing out AI's services. The types of AI can help to give a clearer picture of existing AI capabilities and benefits. AI and its types are utilized to develop an innovative solution in solving different tasks. This is helping to reach and surpass the performance of humans in any size of the task.
Different Types of Artificial Intelligence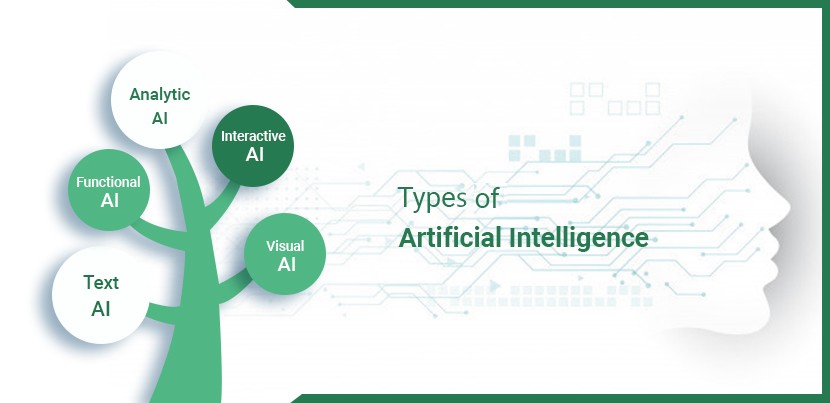 Analytic AI
Artificial Intelligence is the power-driven with machine learning is helping to retrieve insights into the resources. This advance technology seamless in bringing detailed information for more futuristic decisions. Incorporating advanced deep learning techniques to produce in-person recommendations.
Functional AI
Functional AI is somewhat similar to analytic AI. Functional AI instead of offering recommendations takes actions instantly. Talking about the working functional AI examines huge amounts of data for patterns and dependencies in a particular process. This helps to regulate several tasks in speed without any halt.
Read More: Brilliant App Ideas for Start-Ups to Launch in 2020
Interactive AI
Interactive AI is holding a strong grip in the space of businesses allowing to automate communicate effectively and interactively. AI can help improve a company's internal processes without negotiating. Chatbots and smart personal assistants are using interactive AI for understanding the conversation context. AI Interactive was dedicated to creating a Chatbot to facilitate the corporate process.
Text AI
Text AI is one of the frequent used in the business. The emphasis of Text AI is to strengthen the internal corporate knowledge base with the content generation capabilities. Businesses in the different sectors are using Text AI to utilize text recognition, speech-to-text conversion, and machine translation to provide good service. With AI-powered solutions, search and natural language processing can be integrated for the hassle-less process.

Visual AI
This type of AI can help the businesses to identify or recognize objects after scanning the objects. This type of AI is mostly utilized in computer vision or augmented reality fields. This helps convert images and videos into useful insights. Business in retails is more into this type of AI that projects more details after object recognition. Including such kind of AI strategies into business help a retailer to enhance and personalize their customer service.
Reactive Machines
Artificial intelligence systems with limited potential fall under the category of reactive machines. This type of AI doesn't rely on memory-based functionality, which simply means that a machine cannot look into previous experiences to take present decisions. In short, reactive machines cannot learn themselves.
Limited Memory
This type of artificial intelligence can learn from historical data to take present decisions. Most of the apps developed using the potential of AI and deep learning has to deal with an enormous amount of data, which then gets stored into the memory. Chatbots, self-driving vehicles, and virtual assistants with limited memory are a perfect example of it.
Theory of Mind
This type of AI is in progress; researchers are engaged in developing an artificial intelligence that will be able to understand thought processes, emotions, beliefs, and more.
Read More: Business opportunities in Artificial Intelligence for Startup
Pros and cons of artificial intelligence:
Pros of AI
Tackling Tedious Task:
Artificially Intelligent empowered solutions are offering one of the significant advantages of handling complex/tedious situations. Businesses are utilizing the ability of AI to perform any size of tasks within the time frame.
Eliminating repetitive task:
AI manages and eliminates complex tasks for handling more important matters. AI programmed strategies works without impacting productivity while performing repetitive tasks that are necessary.
Taking Fast decision:
Businesses of any size depend on taking the fast and correct decision. AI-enabled strategies offer significant solutions to overcome the barrier while taking a unique decision.
Error-free process:
In many sectors, there are few fields where there is no place for the error. The implementation of AI helps to solve and identify the error in the process with accuracy.
Cons of AI:
Cost of maintenance:
Highly empowered AI tools or strategies offer high cost to maintain and manage. The AI-empowered solution or system with every update needs to match the new updates.
Unemployment:
The replacement of humans by intelligent machines is a big concern in every sphere. The concern of unemployment is one of the leading dispute in the big market.
Lack of humanity:
The working of AI is always based on algorithms and calculations. So there are zero humanity concerns. The worst part is that the AI-based judgments may lack humanity, emotion judgment, thinking or sentimental qualities.
Take away
Artificial Intelligence and its types offer the businesses to stay ahead with the smart decision based on the collected data. The features offered by AI is efficient enough to handle any size of the problem and offer accurate results. It is the fact that innovation can only be created with the help of the human, not by the machines.
There is a thin layer that distinguishes between the AI machines and humans. There are many smart solutions in the market empowered with the AI with rational momentum. Different types of AI have emerged to assist the business in how to harness the market. Artificial intelligence systems work smarter to enhance business services grabbing new possibilities.
For More inquiry Contact us – We are renowned AI development Company that helps customers to develop a different type of AI application including Natural Language Processing, deep neural networks, reinforcement learning, predictive analytics, and computer vision in various verticals.
Our AI work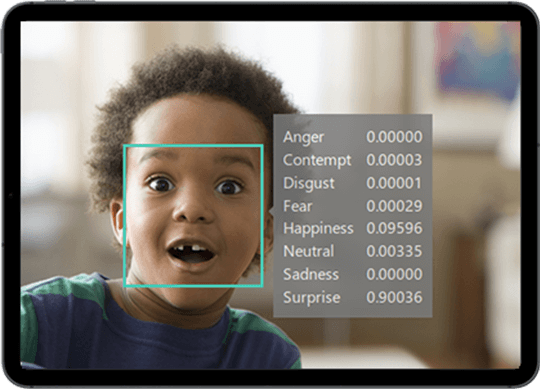 This AI-based emotions tracking solution is for tracking the emotions of the user while video recording. With this AI solution, the emotions are tracked in terms of Sad, Angry, Happy, etc. Observing the user's body language, voice tone, hand motions, and other gestures. This helps make improvements after capturing the futurist index most accurately. About an emotional tracking project. Read more