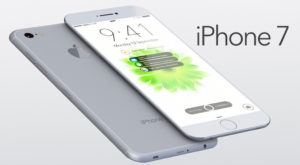 The wait is over! After months of rumors and predictions, the details of the iPhone 7 and iPhone 7 Plus have finally been revealed by Apple at the launch event in San Francisco this week.
Well… while the new phones are mostly similar to the existing iPhone 6S and iPhone 6S Plus in terms of look and feel, there are some subtle differences as well.
So, in this article, I will discuss the new features you can expect to see in both new iPhones and how much you will pay for each version. Let us take a look at them.
Size and Feel
The iPhone 7 has the same 4.7 inch screen as the current iPhone 6S, but the iPhone 7 Plus comes with a 5.5 inch screen and 1080p display. According to Apple, the HD Retina display is also 25% brighter than previous models.
Home Button
The home button is pressure-sensitive which means that you cannot press it in or physically stress it as you are able to do with the One Plus 3 and Motorola Moto Z. Although the button is static, it vibrates to simulate a button press.
Water Resistance
There were a lot of speculations about whether the iPhone 7 will be water resistant and it seems as though Apple has heard them. Yes, the new phone will be water resistant as Apple's competitors' phones, such as several Samsung and Sony smartphones, are.
Headphone Jack
The iPhone 7 does not have any headphone jack. The new EarPods headphones will connect through a connector port. Also, it will come with an adaptor.
Camera
The iPhone 7 still has the 12 MP camera, but it now comes with a larger aperture (f1.8) which will help keep images steadier.
In addition, the new iPhone 7 comes with Optical Image Stabilization which will help you make crisper images, even if your hands are unsteady while you capture photos. Moreover, the iPhone 7 comes with a new front-facing camera that includes auto-image stabilization. The new version also comes with a 56 mm telephoto lens on the back that works like a built-in zoom feature.
The camera will let in 50% more light through the six-element lens, according to Apple. They also emphasized that it is better for all photos and low-light photography. It even comes with a new quad-LED flash which promises to make the light of the flash better.
The new version will also support live photos (a three-second video clip) and comes with Raw image support.
Speakers
The iPhone 7 comes with two speakers (one at the top and one at the bottom) which is a brand new feature. So, you will get stereo sound, which was missing earlier.
Battery Life
The new version offers greater battery capacity to ensure a longer battery life. According to Apple, you will get 12 hours of LTE browsing.
Processor
The iPhone 7 has a new A10 Fusion chip which is a 64-bit, quad-core processor. As per Apple, it is 40% faster than last year's A9 processor. The two cores offer high efficiency and high performance which will conserve battery while handling tasks. You can also expect deeper visual graphics, especially during gaming.
Storage
The storage was increased and the new phones now come with 32GB, 128GB, and 256GB capacities.
Colors
You can get the new phone in five different colors. These colours are matte black, rose gold, gold, glossy jet black (only available with the 128GB and 256GB models), and silver.
Cost
The 32GB iPhone 7 will cost you $649, while you will pay $749 and $849 for the 128GB and 256GB models, respectively. The iPhone 7 Plus starts at $769 with the 32GB storage model. The 128GB model starts at $869 and the 256GB phone will cost you $969.
Moreover, you will be eligible for the new phone if you sign up for the iPhone Upgrade Plan. Earlier, only people in the US were able to sign up for this plan, but the program has been opened for those in the UK and China as well.
You can pre-order both the iPhone 7 and iPhone 7 Plus, this Friday and it will be available by September 16.
Wrapping Up
The iPhone 7 and iPhone 7 Plus do not differ much from the iPhone 6S and iPhone 6. However, the key updates, such as water resistance, better camera, and faster performance, could certainly give Apple a competitive advantage over its close competitors, such as Samsung.
So, what is your view of the updates to the iPhone 7 and iPhone 7 Plus? Would you be interested in buying it? Do you have any questions? Let us know the in the comments below.
App Development Consultant Service Inquire now