Facebooks' first all-in-one VR system. The new VR headset allows to look around in any direction and walk through virtual space just as in the physical world with higher degrees of full positional tracking.
Oculus VR headset has a long promising future that provides the user with an advanced level of virtual freedom. This VR headset will bring people together and connect users with virtual space just as in the physical world.
CEO Mark Zuckerberg introduced Oculus Quest at Oculus Connect 5.  "This is the all-in-one VR headset that we have been waiting for." Zuckerberg quoted.
About New Oculus Quest VR Headset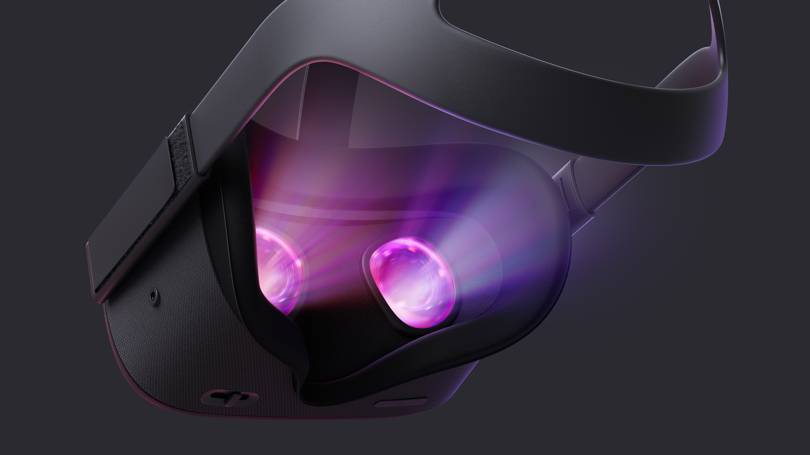 Oculus Quest is a standalone VR headset with two handheld controllers. Talking about its working it doesn't require any PC or a mobile phone to run VR games and experiences.
The best part about this VR headset is that it also uses inside-out tracking. That means it allows the device to respond instantly visually to users while experiencing it.
This is an advanced level of its earlier version which will not only make tracking work for Quest in a variety of rooms easily, it also works in much larger rooms than most existing home-based VR systems in an efficient manner.
The Oculus Quest VR headset is featured with two handheld controllers, both of which can be tracked in real-time by the headset's sensors. Therefore, we say that it is offering an option between the entry-level Oculus Go and the Oculus Rift with superior graphics which is run by a computer.
Oculus Quest comes with more than 50 games, apart from that it has the 1600×1440 per eye display resolution of the Oculus Go. Moreover, for seamless processing and better user experience it has built-in audio and 64GB of storage.
It is offering better position tracking through four wide-angle cameras including some improvements over the earlier VR headset.
Therefore, Facebook says users will be able to walk around in up to 4,000 square feet of space wearing the VR headset. And its motion controllers will work with 50 existing Oculus applications.
Best VR experience for Users
Users with Quest VR headset can virtually interact with the social network that let's cartoon versions of people interact in virtual locations.
Therefore, with no wires and separate gaming PC, this VR headset Quest has enough to attract more casual gamers into virtual reality.
Though it runs more or less the same software and games as the Rift, it would be able to produce some top-quality experiences to the users.
Cost of Oculus Quest VR Headset
The headset Oculus Quest will be released by next Spring and will retail for $399. Though Oculus Rift headset is also of $399. But the VR experience is unmatched. Hence, to feel advance VR gaming experience without heavy PC assembled then Oculus Quest has everything you need. It is including the integrated computer and battery components with a premium standalone option.
Bottom line…
With such evolution, we are heading towards a better future. Facebook offered users with an advanced level of game play capabilities with the effortlessness VR feature. Therefore, it will create competition for developers to convert existing PC games for the VR headset. Quest VR Headset gave a vision to many VR App Development Companies to move ahead in the market and develop more innovative ideas for the user.