The advent of mobile applications has changed the way people used to interact and engage with brands to get their products and services. These applications have created a win-win situation where the brands can reach their targeted audience conveniently and the customers can access the brands' products and services at fingertips.
Businesses from all verticals, including the health and fitness industry, have been using mobile applications to offer their services. Healthcare mobile apps are in demand because they provide the convenience of accessing various digital health services in the blink of an eye. Just download the app, create your profile, find a medical professional, and get a consultation.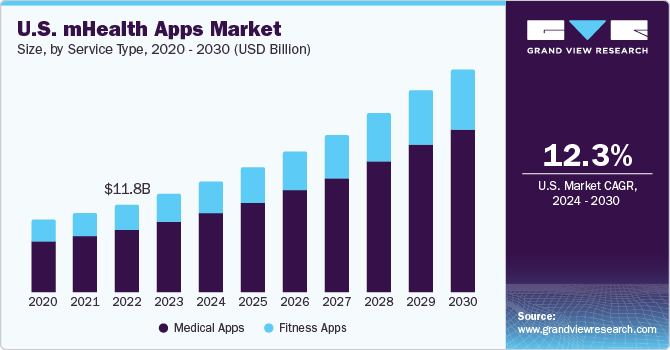 Just like healthcare applications, fitness apps are also gaining a huge momentum these days. People who find it hard to visit a yoga center, fitness club, or gym are choosing fitness apps to stay healthy and fit. Since the demand for healthcare, medical, and fitness applications is increasing at an unprecedented rate, it is a great idea to build the same for your startup.
Types of Apps Which are in trends:
Fitness -Workout & Exercise Apps
Lifestyle Management
Nutrition & Diet
Women's Health
Medication Adherence
Healthcare Providers/Payers
Disease Management
Agree with us? Let's look over these eighteen innovative medical, fitness, and healthcare app ideas you can consider building for your startup.
Healthcare App Ideas for Your Startup
AR-Based Medical Training App – Trendy Healthcare App Idea
VR Meditation App – Fitness Idea
Fitness Tracker App – Simple Fitness app Idea
AI-Based Personal Trainer App – On demand Fitness app Idea
Home Workout App – Latest Fitness app Idea
Health Check-up Reminder App – Trendy Healthcare App Idea
On-Demand Doctor App – On demand Healthcare App Idea
Nutritional Value Checker App – Unique Fitness app Idea
Diet Planner App – On demand Fitness Idea
Mental Health App – Trendy Medical Idea
Healthcare App for Women – Unique Healthcare App Idea
Mediation App/ Yoga App – Medical app idea
Medicine Reminder App – Medical app idea
Medical Facility/ Hospital Finder App – On demand Idea
Medical Recordkeeping App – Latest Medical app idea
AR-Based Diagnosis App – Trendy Health App idea
Biological Data Tracking Apps – Latest Medical app idea
Exercise and Earn App – Unique app idea
Let's read them in detail:
1. Fitness app with virtual training
You can think of building a fitness application for riding, running, and training with other people virtually. By giving a normal home workout app a twist of technology, you can make users to cycle and run with other users virtually. They can set their goals and choose the way to fulfill them, while giving tough competition to other users in the app. This mobile app idea would surely be a great hit.
2. AR-Based Medical Training App
An AR-based medical training app can be used to train medical professionals about conducting various surgeries. There is no need to have an actual human body to perform the same. Developing such an option is really a great idea.
3. VR Mediation App
Develping a virtual reality-based meditation or relaxation app is definitely one of the innovative healthcare app idea for your startup. You can provide users the option to listen to soothing sounds, view aesthetic locations, and immerse themselves in different 360-degree view videos from different parts of the world. To make your app stand apart, you can give users the option to select a particular environment or choose a specific location during meditation.
4. Fitness Tracker App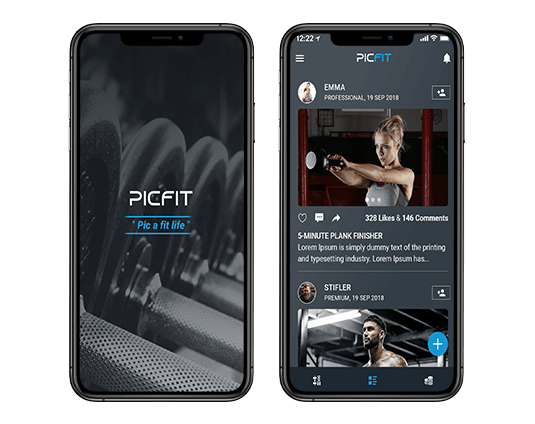 A fitness tracker app can help people to keep track of their fitness levels. By integrating technologies like AI, ML, AR, and more, you can provide features to connect the app with the wearable devices. Such an app can assist people to monitor their heart rate, blood pressure, and more.
5. AI-Based Personal Trainer App
AI-based personal trainers are the new trend in the fitness industry. Such apps relieve people from visiting a fitness club and paying hefty membership fees or hiring a personal trainer to achieve their desired fitness goals. An AI personal trainer application can make them get customized exercise plans with the right way of doing an exercise. You can think of developing such an application.

6. Home Workout App
Home workout apps with pre-recorded workout videos or even customized exercises can make people stay fit without even stepping out of their homes. You can consider developing such an application for your startup. Adding audio instructions, posture correction, and various other features can make your app stand out in the crowd.
7. Health Check-up Reminder App
A health check-up reminder app can help people not to miss or forget their regular checkups. Such an app can send notification or alert a day before the date of the appointment with the doctor. You can also provide other advanced features to allow users to set reminders for particular health tests that needed to be done regularly. Put in the list of the medical app ideas for your startup.
8. On-Demand Doctor App
An on-demand doctor app can make people connect to healthcare specialists virtually. You can provide search and filter options in your app so that the patients can search for a doctor without any hassle. Such an app can be really helpful to people as they can check reviews and ratings of the doctors before contacting them.
9. Nutritional Value Checker App
Developing an app where people can enter the name of the food, fruits, vegetable, and other eatables and get information about its nutritional contents is one of the great healthcare app ideas. You can think of creating it for your startup.
10. Diet Planner App
A diet planner app can help people to get a customized diet plan based on the current body needs and fitness goals. They can simply select the type of diet (vegetarian, non-vegetarian, vegan, etc.), their fitness goals, and the app will provide them a plan. To make your app different from the ones that are already in the market, you can provide features to consult with the top nutritionists.

11. Mental Health App
With the hectic lifestyle, people these days are facing several mental health issues, such as depression, stress, PTSD, anxiety, and more. You can think of creating a mobile application dedicated to providing treatment for mental health problems. This would surely be a great hit among users. They can search for a mental healthcare professional and get a consultation.
12. Healthcare App for Women
You can think of developing a healthcare application dedicated only to women. To make your app different from the other apps, you can provide a discussion platform where users can discuss on various health-related problems. Moreover, you can also provide a specialized segment enlighten users with health-related information.
13. Meditation App/ Yoga App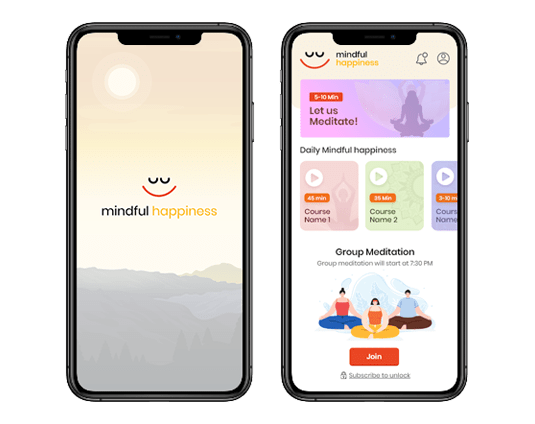 Building a meditation app or yoga app with technologies like artificial intelligence and augmented reality can help people to stay fit mentally and physically. You can add features like audio instructions, music library, posture correction, and more to make your app stand out.
14. Medicine Reminder App
A medicine reminder app can help people to get alerts about when to take their medicine. This way, they will never miss taking their medication on the prescribed time. Consider developing a medicine reminder app to make a fortune.
Recommend: Top 30+ Artificial Intelligence Ideas for iOS and Android
15. Medical Facility/ Hospital Finder App
Helping people through a medical facility/hospital finder app is one of the amazing healthcare app ideas. You can think of developing it for your startup. Such an app can make them check the rating and reviews of a medical facility before visiting it for getting the treatment of various diseases. Similarly, you can also create a mobile app that offers the same information about gyms, yoga centers, health clubs, and fitness clubs in a city.
16. Medical Record Keeping App
By developing a medical record-keeping app, you can make people to keep a record of the health problems, previous or ongoing treatments, prescriptions, and other health-related details. This app can be a boon in case of emergencies.
The app can make the doctors aware of patients' previous health records, details about allergies, information like blood group, and more. The doctor would not have to waste time doing the basic tests to find out the same. They can start treating the patient based on the records.
17. AR-Based Diagnosis App
An Augmented Reality based diagnosis application can help patients to describe their symptoms precisely to the medical or healthcare professionals. When connected to an AR-enabled handheld scanner, the app can help nurses to find veins without any difficulty. Considering developing such an application is surely a worthwhile option for your startup.
18. Biological Data Tracking Apps
By developing a biological data tracking application, you can help people to monitor their health. For instance, you can think of developing a period tracking app to help women keep a track of their menstrual cycle and pay attention to their overall reproductive health.
Such an app can be of great use to monitor serious health issues like cardiovascular diseases, depression, AIDS, and more. The app can help patients to track their treatment progress.
19. Exercise and Earn App
You can also think of creating a fitness app to promote a healthy lifestyle. For motivating people and attract mass audiences, you can offer them rewards every time they achieve running, jogging, walking, or any other exercising goal. Charity Miles is one such type of app that allows users to pick the charity and run to complete the decided amount. The sponsors of the app pay the earned amount to the selected charity.
Read More: 5 Advanced Features You Can Consider While Developing A Healthcare App
Healthcare App Development Process: A Detailed Guide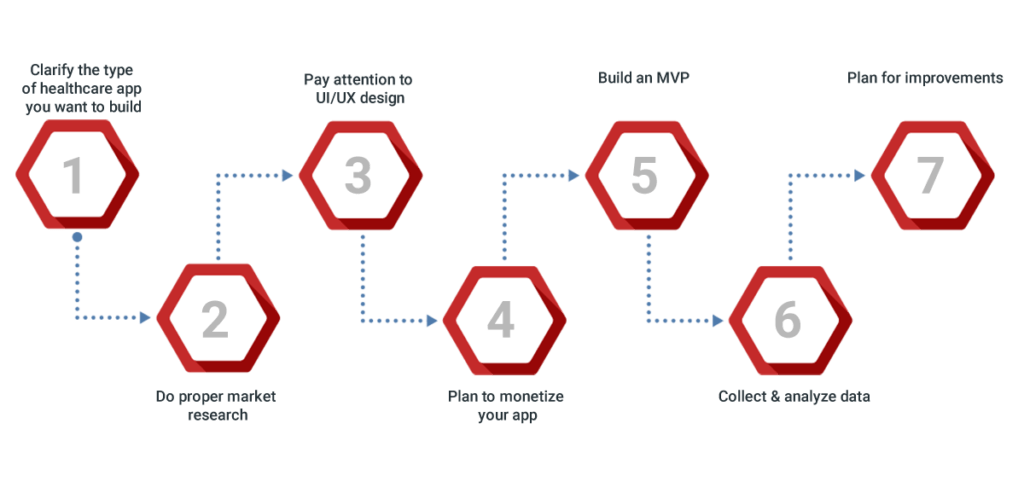 Clarify the type of healthcare app you want to build
While there are hundreds of healthcare apps available in the market, each is segmented to a specific goal and audience. So, it is crucial to define the type of healthcare mobile app you are going to create. Some of the types include –
Professional healthcare app
Clinical communication app
Patient communication app
Medical record app
Risk assessment app
Barcode scanning app
Medication dosage app
Doctor-on-demand app
Condition-based app
Fitness app
Diet and nutrition app
Meditation app, and more
So, before you move to the next step, decide the type of your app.
Do proper market research
This will help you recognize your competitors, analyze the features and functionalities of the app, and most importantly, your target audience. Getting data around these will enable you to build a powerful healthcare app that addresses the users' pain points.
Pay attention to UI/UX design
UI/UX is an essential stage of healthcare app development process. It is essential to design an intuitive yet user-friendly app. As the target audience for such an app is extensive, here are some important points that you must adhere to
Show important information right when the user opens the app
Minimize the number of actions a user should take to complete a task
Make the design responsive, i.e., determine how the app will appear on different devices and screen sizes
Plan to monetize your app
While most of the apps in the Play or App Store are free to download, you may wonder how they makes money? Well, it is through advertising, in-app purchases, or subscriptions. Depending on the industry you are developing the app for, your monetization model will vary.
The best way to monetize your healthcare app is subscriptions. You can make the users pay subscriptions monthly, yearly, etc.
Build an MVP
Minimum Viable Product, or MVP, refers to the app development with basic features. It helps you when you want to validate your idea, spend less on resources, or market it faster. Whichever be the case, MVP is an ideal choice as it lets you determine the market response and make iterations in the app step-by-step.
Collect & analyze data
Once you release your MVP, you will get to know how users interact with the app. You can track user behavior and identify how they use your healthcare app. You can also ask for their opinions, reviews, and feedback to understand how likely will they use the app.
Plan for improvements
Based on the data collected in the earlier phase, you can analyze what improvements your app requires. You can iterate the app and launch new features. Along the way, you will also get to know what features your healthcare may lack and how you can enhance user experience. Jot this down and prep up to develop the next version of your healthcare app.
The healthcare industry is continuously evolving. Thus, it is recommended to stay up-to-date with the latest technological advancements and be prepared to leverage them in your existing solutions. You can also seek help from expert healthcare mobile app developers at Quytech to understand the core features and key trends that can take your app idea to the next level.
How to Turn Your Healthcare App Idea Into Reality?
Once you shortlist a healthcare app idea for your startup, the next step is to find a reliable mobile app development company or hire developers to begin the development. If you have a little bit idea of the mobile app process, then prepare a list of the app requirements before connecting to the company or the developer. However, if you are a naïve, then simply share your healthcare app idea or goals with the company.
Now the next thing you must be thinking about is the cost of the app development. Calculating the same needs to consider several factors including the following:
The platform on which you want to release the app
Tech stack of the app
Experience and location of the development company
Size of the development team
Time duration required for the project
UI/UX design of the app
Type of healthcare/fitness/medical app
Our Healthcare Work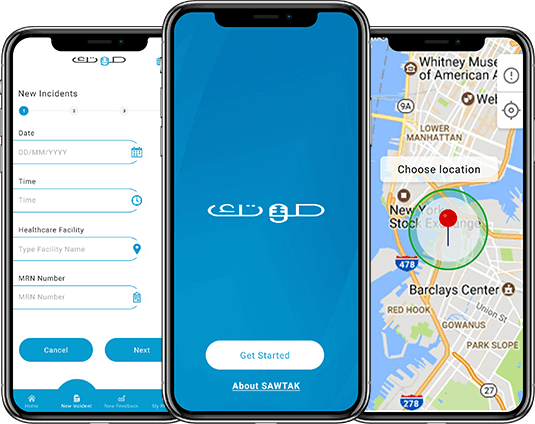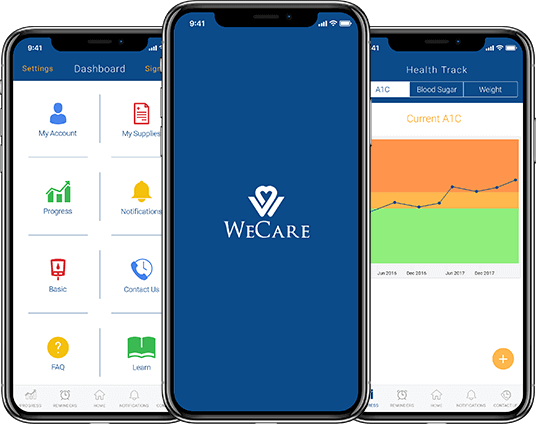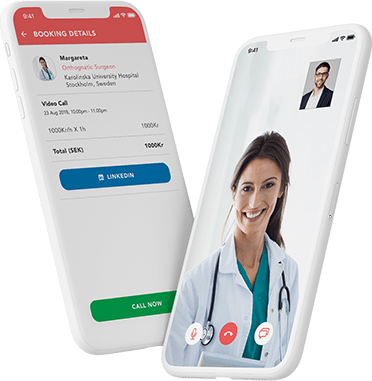 With the right mobile app development company like Quytech, it won't cost you a fortune. Moreover, a reliable and experienced company would also take necessary factors like making the app HIPPA compliance, setting the right customers for the app, deciding the right monetization strategy, and more in mind.
For healthcare, fitness, or medical app development, you might need to pay somewhere between US $25,000 to US $70,000. The price may increase or decrease depending on your specific healthcare app requirements and the factors mentioned above.
Explore our Healthcare Work Here
So, what are you waiting for? Begin your Healthcare app development process today!
Final Words
Looking out for an innovative healthcare mobile app development idea? Your search ends here! The article provides eighteen unique app ideas you can consider building for your startup in 2020-21. These health tech app ideas include AI-based personal trainer, diet-planner app, meditation app, home workout app, and many others. Read the complete article to know more about these app ideas.
On the contrary, if you already have an idea or have shortlisted any among these, then contact Quytech to start the development process. We assure you to provide a feature-rich, robust, and scalable healthcare mobile application within the committed time.
Enquire Now: Info@quytech.com