The growing eCommerce App Industry is gradually accelerating with time. A rapid change in the smartphone world has made people prefer browsing shopping stores on their mobile devices. Nowadays visiting a shopping mall moving back and forth across the shelves holding a shopping trolley filled with multiple items is outdated. There are leading retailers in the eCommerce world providing their customers with a secure, reliable, user-friendly, and flexible e-commerce platform. With user need the m-commerce industry henceforth updates to customize eCommerce mobile apps.
Apps development seeks significant opportunities to grow and reach the individual's user in today's world. Therefore, many companies are working simultaneously to hold a position in the worldwide business of smartphone Mobile apps.
In this era, every competitor is looking for maximum customer reach so these retailers develop their android e-commerce app and iOS e-commerce app to sustain in the market.
eCommerce Market Statistics
According to Statista Here are eCommerce Market Statistics-
The global retail eCommerce sales are projected to be USD 6.54 trillion in 2020.
The eCommerce market is expected to show a Compounded Annual Growth rate (CAGR 2020-2024) of 8.1%, which will result a projected market volume of USD 3,102,791 million by 2024.
User penetration is expected to be 60.3% by the end of 2024.
eCommerce App Development Trends 2020
The rise of voice shopping (It is expected that voice shopping is expected to grow to 40 billion in the next two years).
AI-powered chatbots.
Use of artificial intelligence, machine learning, NLP, and other top technologies to deliver a personalized user experience.
The rise of virtual reality.
Focus on mobile shopping.
Social media play a major part in eCommerce.
Augmented reality to transform the way of online shopping.
Why eCommerce Apps is in demand?
eCommerce apps provide a medium to smartphone users to browse through different products (apparels, electronics, groceries, etc.) anywhere anytime. Here are some of the other reasons behind the growing demand of the eCommerce App development:
The rapid increase in the number of mobile application users
Helps in boosting brand recognition and reputation
Easy way to reach potential customers
eCommerce applications are easy to access
What features users look for in e-commerce App?
Easy search options with a simple interface
Easy layout of categories and subcategories
Notification: recent offers, arrivals, order status and a lot more
My Cart option where customers view all added products
Product image search option to make buying easier
Secure payment, trouble-free tracking of orders
Easy Register/login that allows you to select an item to wish-list.
Available for three platforms: Android, iOS and Windows Phone
Advanced features in an eCommerce app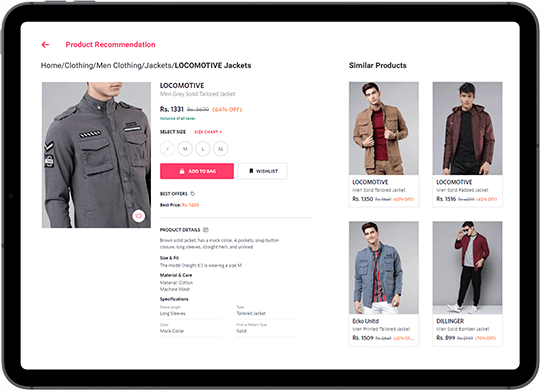 Multiple payment options: to allow users to pay through multiple options.
Push notifications: to send alerts about new updates, offers, sales, and order details.
Analytics: to track your app performance or users' behavior.
Rating and feedback: to allow users to submit ratings and feedback about products.
Analyzing Market
The best way is to analyze the market which is a crucial part before starting any job. Before a mobile app is ready for eCommerce make sure, you've done your fair share of research on app features. The important part is that focuses on user needs. After research, it would be better to create an online platform with multiple key functions and an easy-to-use, eye-catching UI. Taking an example of an eCommerce giant like Amazon, since they're the biggest in the whole wide world.  You need to test it thoroughly to see how the app is working to stand up to mark as the user demand. Last but not least after tweaks what changes need to be made to improve it.
Define Your Product
After analyzing the next thing is to introduce the app and tell your consumers what breaches your mobile eCommerce app will bridge for them. It is witnessed that consumers reach to all their shopping needs by eCommerce apps. If you have to make your app popular, find out areas where available eCommerce apps serving users lack.  By defining your App, you have to do detailed research on all available eCommerce apps. After that, you can provide something extra or something that's missing in current app services.

eCommerce App Development- Teams and Technologies
Developing an eCommerce app requires a great deal of attention and effort. To complete each phase involved in the development process, you need:
UI/UX designers
Android or iOS developers
Application testing engineers
Project managers
App maintenance and support providers
Tech Stack required for building an eCommerce app
The technologies you choose to develop an eCommerce app totally depend on your specific app requirements. However, you can consider the following for developing the app for Android and iOS platform:
iOS
Programming language (Objective-C, Swift)
Toolkit (Apple Xcode)
SDK (Software Development Kit, iOS SDK)
Android
Programming dialects (Kotlin, Java)
Toolkit (Android developer tools and Android Studio)
SDK (Android SDK)
Please note that the aforementioned ones are general tech stack for developing an eCommerce app. The developers might use some other languages, toolkit, or SDK depending on your specific requirements.
eCommerce App Development- Cost
Building your eCommerce app have different pricing to choose from starting to end process. To be clear it actually depends on how you want the process to be.
At Quytech we are a Top mobile app development company in India and have vast experience in developing eCommerce apps with professionals out there who can take care of the client and user needs. Estimating cost gives the whole team a clear idea of how much planning and evaluation has to be done. Moreover, creating a mobile app for eCommerce from scratch goes through a complex process that is handled by our expert team.
Keep in mind that the cost directly depends on the many factors a such number of hours' developers spend to build your online store app and the pricing differs from one company to another. While estimating the cost few things need to be considered.
Which Platform Will Your App Be On?
What Will Be Your Mobile Ecommerce App's Functionality?
What Will Your E-Store Design Be Like?
Here is an approximate Cost for eCommerce App Development.
For the eCommerce app development, you might have to pay approximately Cost $30,000 to $170,000. The price may vary depending on the exclusive features you want in the app.
Today the population has advanced with the technology growing around them. Therefore, the whole retail industry scenario is changing. The power to shop online helps for the development of ultimate bliss that is the bliss of shopping for fulfilling their personal and household needs through the eCommerce Apps.
Contact us at info@quytech.com