The mobile application is built with a business goal. Most of the apps follow the monetization strategy based on business purpose. The market of the mobile app is full of a variety of mobile apps. The businesses are expanding in different dimensions likewise, the mobile app industry is growing.
To gain the profit from a particular app the business set app marketing strategies. The major concern of the mobile application industry is how to monetize your mobile app. Those mobile applications in the marketplace have reached new heights which solve user's problems.
There is a different scenario when it comes to earning money from the free app. It is well known that the development of the app required a lot of time, patience, and most essential money. Therefore, it should be clear how to monetize from your application.
It is seen that free apps with the outstanding idea have always led in the queue both in terms of profit and number of downloads. Hence, a question arises, how do free mobile apps make money?
Here are monetization strategies to optimize the revenue possibilities with free mobile apps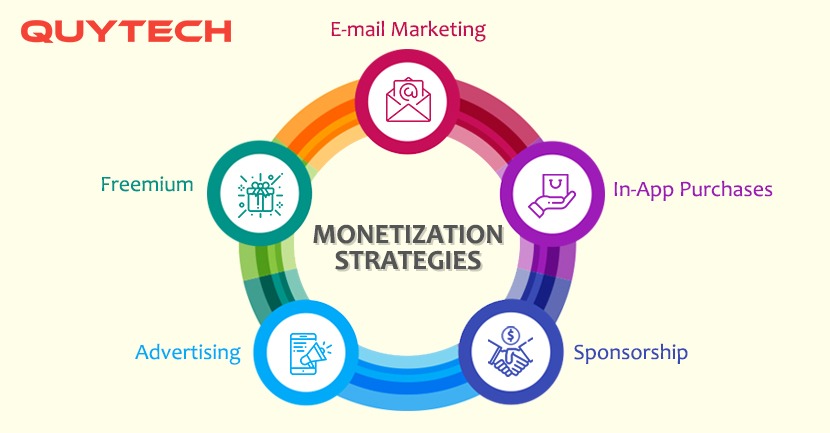 E-mail Marketing
To reach users and potential clients, e-mail marketing can be really effective when it comes to monetizing apps. Moreover, it is another way to make your app available anywhere. This can be an effective approach by asking for user e-mail at the time of logging into the application. Asking e-mail id can be tricky. The user can log-in into the app by login in Facebook or by the means of Google id. There are different methods of gathering customer e-mail IDs. Hence, reaching users through e-mail is a great method to contact and retain them to your app.
In-App Purchases
Offering an in-app purchasing option can vary from selling services. This option is "ON" if the app is offering exclusive service and feature. Most apps with In-App Purchases strategy focuses on enhancing the user experience. The potential users can only take a chance to go In-App Purchases. There are a few apps in the industry those can be used only by opting In-App Purchases, but still, the user goes for it. Mostly On-demand apps drive sales with a seamless experience. In-app purchase strategy has categories:
• Consumable: Only used once mostly in mobile games.
• Non-consumable: Offered are features used permanently
• Subscription: Unlock additional features for a particular amount of time.
Sponsorship
Sponsorships are an effective monetization model that boost revenue for your app. This option can turn out to be an effective step to earn money. Through this approach, you can actually reach out to a potential funder who would design the app to match the sponsor's brand. Therefore, you create an app that gains a large amount of traction by putting it into this category. Moreover, it opens the doors to many new sponsors, allowing large sponsorships options.
Advertising
Advertising one of the most common and effective techniques. Most of the apps nowadays implement this strategy. There is the participant of third-party networks. Advertisement is quite a simple task to generate revenue from the third party ad networks.
Freemium
One of the most well-known methods of app monetization is considered as Freemium apps. Freemium apps are provided free of charge. Apps that fall in this category are accessible for free in stores. Though these apps contain paid or premium features that can be accessed through in-app purchases. This approach is a great way to attract new users at a faster rate where premium features are optional for the users.
Takeaway:
There are businesses having an app, but are unsure how a free app brings profit to them. Most users simply start using App after downloading it from the store. Therefore, to make money from free apps required some efforts. You can follow aggressive marketing and innovative advertising methods to draw profits from a free app.
However, trying out the tactics and analysing the market can make effective results. To move ahead in the competition keep things in mind like your target business and your mobile app pattern. You can improve the overall experience of the user with your marketability of app that will lead to greater profits over the course of time.