Mobile technology in healthcare; how is that possible?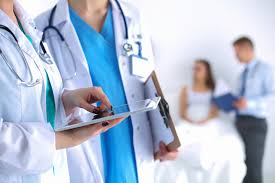 A couple of years ago, you could have gotten this reaction if you have said that this technology will impact healthcare in the coming days.
But not anymore.
It has transformed and is still revolutionizing both sides of healthcare: consumers as well as healthcare service providers, from physicians to hospitals.
Just look at the statistics.
Research tells us that 51% of physicians use tablets and 78% use smartphones to provide care. Also, 83% of healthcare workers said that mobile technology has had an impact on the way medical treatment is provided, according to the same survey. And, around 50% of consumers expect it to change their health management process.
In fact, according to renowned digital medicine researcher and cardiologist, Dr. Eric J. Topol, wherever there is a mobile signal, there is the capacity for delivering better healthcare.
So, let us take a look at why mobile technology has become inevitable for the healthcare industry. How does it simplify healthcare services and management? Read on to learn more.
#1 Make Appointments
Earlier, patients had to call the clinic or hospital to make an appointment. But, today, several healthcare institutions have their own mobile app that makes it easy to schedule a consultation.
The consumers just need to select the doctor they would like to visit, check his or her availability and book the slot they want. It is that quick and easy!
Have you ever thought that appointment booking would be this smooth?
#2 Monitor a Health Condition
Mobile technology has also made sure that you do not need to depend on doctors or nutritionists to manage your health conditions. There are several tracking apps available that make health management easier.
For example, in the past, diabetic patients had to visit a physician physically, take a test and wait for the results.
But, now, with the help of tracking apps, they can record their glucose on their own and send the results to the appropriate specialist.
Imagine how much time and money they save here. And, if you add the convenience to the patient as well, then this is a marvelous advancement.
There are many other apps available that also simplify health management, such as period tracking apps which help women monitor their menstrual cycles.
Also, there are smartphone-assisted ECG devices that help patients monitor and log data about their heart rhythms.
#3 Receive Medication Reminders
Mobile technology is not just helping with tracking. In fact, there are also medication reminder apps available that are becoming highly popular these days.
For example, such an app can remind diabetic patients when to take the glucose test and can manage their meal plan.
And, patients who receive such reminders and notifications are more likely to manage their health better, dodge serious or chronic illnesses, and avoid lengthy and expensive hospital stays.
More recently, even wearable technology, such as Fitbit, helps people plan for weight loss and personal exercises as well.
#4 Identify Illnesses
There are many dedicated healthcare apps available that has a remote reporting feature. This marks the state of ongoing and constant communication between the patient and physicians through sickness and health.
This data helps other healthcare practitioners identify any potential dangerous changes to patients' health as soon as they get sick. In fact, in some cases, it can diagnose illnesses, even before the patients start showing symptoms.
This is beneficial for both physicians and patients. It would help practitioners provide a more effective treatment as the ailment is recognized earlier.
Also, the patients do not need to wait until they show critical symptoms before looking for support to manage their health.
Moreover, clinicians even use mobile technology for various reasons, such as:
Researching patient information,
Training and educating,
Researching clinical information,
E-prescribing, and
Providing clinical notifications.
Case Studies
We have discussed how mobile technology is changing several areas of healthcare, but let us now take a look at some case studies to learn how some healthcare institutions across the world are capitalizing the power of this advancement.
Improve the Health of Rural Communities in Arizona
In 2011, Qualcomm, the US National Institutes of Health and Northern Arizona Healthcare (NAH) partnered to drive a project to test whether mobile health services can improve healthcare and slash expenditures in rural populations.
The team provided home monitors to 50 people who had congestive heart failure and/or were suffering from chronic illnesses, such as diabetes. The instruments were able to measure the heart rate, oxygen level, blood pressure, and weight and channeled the data to NAH automatically through a mobile phone connection.
They monitored each patient for at least three months, with nurses and doctors at the center offering medical advice and other care as needed, based on the data. And, the results were spellbinding.
The nurses were able to identify potential health issues before they became serious. Also, the team helped the patients understand that many of the symptoms they might be facing may not be due to a life-threatening condition.
Also, the average number of each patient's stay in a hospital decreased from 14 to just over five, which saved over $90,000 per person!
Wireless Health for the Heart in China
China has always been finding it difficult to provide quality healthcare to the rural population. However, they had success when they adopted and initiated mobile health projects.
An example of this is the Wireless Heart Health project.
Through this project, 11,000 heart patients were given smartphone-enabled heart sensors and the data was sent to 96 community doctors, who reviewed it and communicated with the patients by phone or text.
And, it was found that around 1,100 people had severe cardiovascular problems that require further testing and evaluation in clinics. It was never possible to identify those patients earlier.
And, that is not all.
There are many other case studies that prove that mobile technology can dramatically improve healthcare services.
For example, researchers in New Zealand improved health outcomes just by using simple mobile text messages.
Also, in Kenya, mobile technology was used to track HIV and help the patients take their medications accordingly.
So, do you have any examples to share about how mobile technology is transforming the healthcare industry? Please feel free to leave your comments below, we'd love to hear from you.