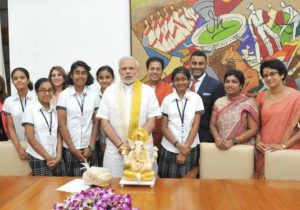 A great day for the 5 girl students of Bengaluru's New Horizon      Public School as they meet India's Prime Minister Narendra Modi  on Tuesday in New Delhi. Modi personally praises the five girl  students for developing a mobile app which will help in executing   'Swachh Bharat' Mission.
"I am proud of you. You have made the country proud. You are true    role models of the nation. I wish you all the best in your endeavours,"  Modi told the students.
Sanjana Vasanth, Anupama N., Mahima Mehendale, Swasthi P. Rao and Navyashree B. assured Modi that they will develop a full-fledged mobile app in a year.
"The prime minister asked about the app & listened with great interest about its features. He admired the girls for conceiving three of his ideas in one go — 'Swachh Bharat', Digital India and 'Beti Bachao, Beti Padhao'," the school said in a statement released in Bengaluru.
"It is a great day for all of us. The students were thrilled to be with the prime minister. He asked them many questions. I am delighted that Modi blessed our wards," school chairman Mohan Manghnani said.
Their team Pentechan won the Technovation Global Challenge contest at San Francisco in the US on June 25 for developing the app 'Sellixo', which means waste in Portuguese, and jointly bagged $10,000 as seed money for research.
"Sellixo is an android mobile app which provides an online marketplace for users to buy and sell dry waste," the statement said.
The mobile app's jingle "why thrash it, when you can cash it" went viral in the virtual world.
The app targets dry waste producers like small shopkeepers and apartment associations, dry waste collectors (raddi walas) and recycling agencies.
The students presented Modi with an idol of Hindu god Ganesha and Karnataka's traditional Mysore peta (headgear).