In June 2015, Google acquired an app streaming startup named Agawi and today they came out with a breakthrough feature which lets you use apps without actually installing them.
Smartphones come with limited storage space that's why users can not download every app even if it useful and attractive because of the fear that it will slowdown the performance of their smartphone.
But now you can use apps without installing them But How this magic works ?
With the new technology, Google is hosting select apps on its computers, then displaying the content as interactive streaming videos. Search results display "deep links" to relevant content inside the apps.
How is all this streaming stuff possible?
Google said it is using new cloud-based technology.
Rajan Patel, the director leading the app indexing team, told TechCrunch that "streamed" apps run on virtual machines through Google's cloud platform and can respond to your touch similar to how native apps do.
He also painted this streaming stuff to be more of an experiment. Google wants to see how users respond to it before the company embark on a worldwide rollout or even an expansion to iOS.
As clearly explained by Cnet author Richa Nivea
For example :
" If you search for, say, "hotel tonight in Chicago" using Google's app on a smartphone powered by the company's Android software, it will show you search results from around the Web like normal. But there will also be information from apps like Hotel Tonight, the San Francisco-based app for booking last-minute rooms. If you tap a button, Google will open up the app so you can book a room, even if you don't have it installed on your phone."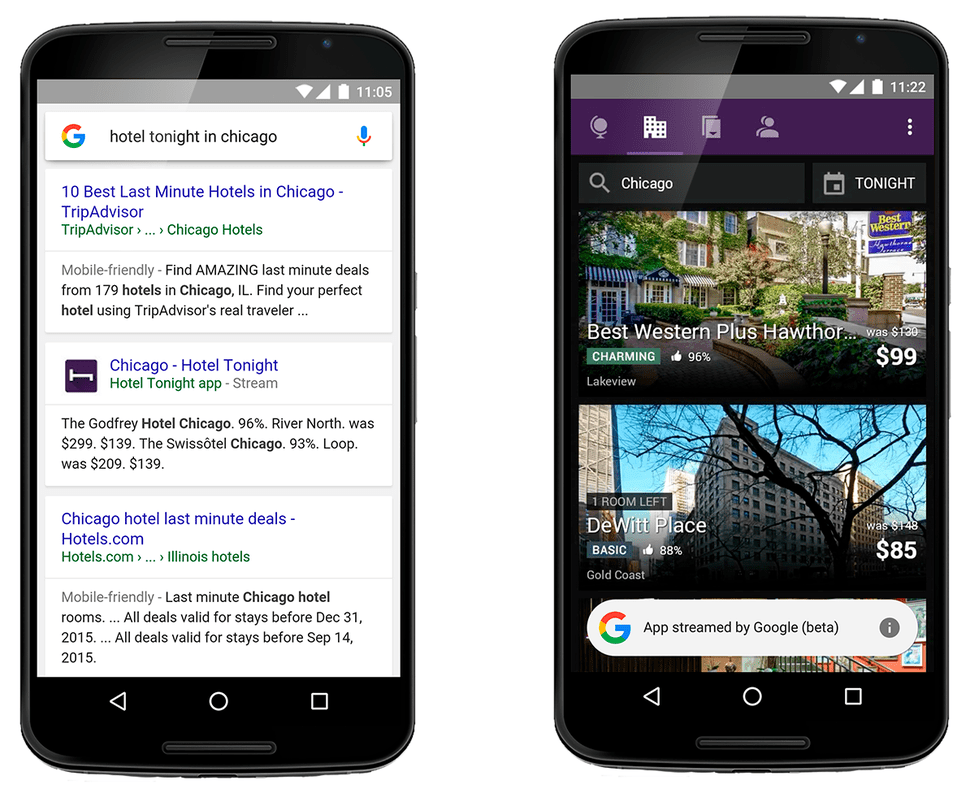 So it will save your time as well as your phone memory.
But wait this feature at present work with only few apps which are Hotel Tonight, Weather, New York Subway, My Horoscope, Daily Horoscope, Visual Anatomy Free, Useful Knots, restaurant finder Gormey and national-parks guide Chimani.
Please Note: The ability to search and stream stuff from apps is only live in the US for now.
The company has also been working to make information from inside apps more searchable on Google, a technology called deep linking. The company said it now has more than 100 billion links to information from apps.
"This is potentially a big deal because it can make apps instantly available the way websites are," said Scott Huffman, a Google vice president of engineering, who leads the project.
Users turn to Google for answers, Mr. Huffman said. "Users don't want to think about whether the information they need is in an app or not and whether it's worth downloading, they just want the information."
iPhone users will have to wait for this feature to work on their device.