An exponential growth in the adoption of Artificial Intelligence technologies has led to the transformation of various industries such as Contact Centres, Healthcare, FinTech, Telecom, Manufacturing and Agriculture. The concept of AI is not new to humanity and dates back to 1950's where the term 'Artificial Intelligence' was coined. Although like any other technology, it was in its simplest form at that time, but surely it evolved over-the period.
Fast-forwarding to present, we are witnessing an increasing number of technology companies investing in the development and adoption of AI.
AI requires an enormous computing power to run and process operations and with the advancement of infrastructure to run parallel computing workloads, such as cloud computing or modern hardware GPUs to run millions of instructions, it is becoming possible to work on AI with scalability, efficiency and cost effectiveness. This is creating a host of AI based applications in speech recognition, natural language processing, chatbots, image analysis, decision making tools, process automation, text analytics, and more is bringing a healthy competition to the market.
There's been an enormous increase in the germination of start-ups which are working on the technology and generating algorithms to solve various challenges through their innovative AI based tech. Vis a vis, there's an ecosystem of tech giants and evolved players with a lot of cash in hand to develop solutions on a much bigger scale and invest heavily in the technology. Overall, there's a stream of business of all sizes working on the technology and creating application for the industries and organisations to embrace AI. When it comes to development, it's a decision that lies with the companies to work on their AI applications either on closed-source code or to release it to the world and let the community contribute to it, as an open-source code. But the question arises, is it worth to open the code to the world?
Why Open Source?
Open source involves contribution and collaboration from some of the most progressive developers and minds to craft solutions and off course this also leads to make the tech much cheaper. When it comes to running algorithms on thousands of engines, train models on huge datasets, bringing life-like intelligence to machines and to democratise AI for everyone, open source could be an answer to address the problems.
Individuals and organisations contributing towards an open source AI project share code and algorithms to a level to manage datasets and detect patterns which can be reused, tweaked, integrated and distributed to other products and solutions thus spurring innovation.
The goal is to make the technologies available to developers, data scientists, algorithms for machine learning models, training deep neural networks and have a thriving industry where applications can be used and developed.
Big Tech Companies Open Sourcing their AI Frameworks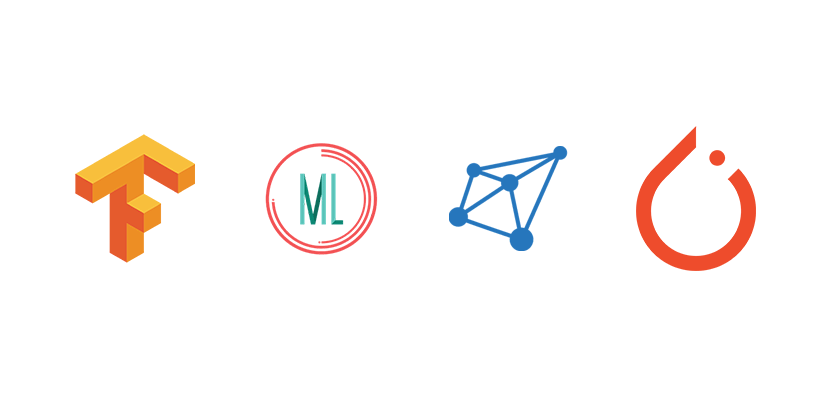 Open source community which drove the origination of many popular operating systems, applications and tools is gaining attention by big-tech giants with some great contributions. Companies are realising the true potential of open source community and bigger giants such as Google, Facebook, Baidu, Microsoft and more have started open sourcing their API's. This seems bizarre that why companies are opening their software and developing AI systems around this methodology. Well, with much of their work released to public for exploration, this focuses on a fast growing market with people working on intelligent problem solving solutions, more researchers testing hypotheses, machine's learning or planning to replace human engagement is perhaps leading to a healthier improvement. Some of the best open source AI technologies that major technology companies have opened are –
Developed by Google, TensorFlow is one of the most used and well-maintained open source machine learning framework which allows users to develop deep neural networks using data flow graphs for numerical calculations. The flexible architecture of TensorFlow lets users to perform computing on multiple CPU's or GPU's with a single API and is used by several companies including, Intel, eBay, Twitter, Dropbox and Uber to take advantage of that.
Apache is created by IBM which has reached at one of the top-level project in Apache Software Foundation. The software offers flexible and scalable machine learning systems to run Machine learning code and execute deep learning capabilities by employing GPU and execute neural network architectures to train models.
Microsoft's Cognitive Toolkit aka Computation Network Tool Kit
Previously known as CNTK, Microsoft's Cognitive Toolkit is an AI solution which runs on open source framework to train deep learning algorithms. The tool offers highly optimised components and ability to monitor and control resource usage and can be easily integrated with Microsoft's Azure and NumPY.
PyTorch is another open source machine learning library primarily developed by Facebook's AI Research lab (FAIR). PyTorch is based on Torch library and used for applications such as computer vision and Natural Language Processing (NLP). Companies using PyTorch in their stack include Walmart, Scale, Abeja, Bulb, InsideScoop and more.
Open sourcing software by Facebook is becoming a standard and it has also made available two more open source tools – AX and BoTorch to collaborate and build an open source community.
Companies Building a Smarter Tomorrow
As start-ups and tech giants are releasing their API's and infusing AI in their products, revolutionary breakthrough technologies and algorithmic innovations are transforming Autonomous Driving, Healthcare, Fintech, Telecommunications and more.
Autonomous Driving
AI in self driving is one of the many popular use case in the automotive industry. To train self-driving applications we require machine learning algorithms and data sets to learn through data and make them better. With open source projects becoming more common, various companies have started using them in developing autonomous driving applications. Tesla, a market leader of electric car saw this challenge of the adoption and tech development behind electric cars and thus found strength in making the tech open. The company made its self-driving car patents open for anyone to use in the spirit of open source movement.
Healthcare
In the past, Machine learning tools and predictive analytics has been limited to only elite data scientists and group involving top national centres but with the Open Source AI this is changing. AI is disrupting the healthcare and moving them out of laboratory to real world applications to tackle problems of automation, treatment and care, diagnostic, drug discoveries, develop personalised medicines and many other areas which were previously untouched. Many companies are coming up with their open source AI based products to boost HealthTech. For instance, Health Catalyst, a provider of data and analytics to healthcare organisations has created an open source predictive analytics software – healthcare.ai for hospitals. Their aim is to make this tool available for everyone to promote the adoption of machine learning in healthcare industry.
Read More: AI Case Study – Cancer Drug Discovery
FinTech
To run and support operations while enhancing customer experience, Banking and FinTech organisations have to either use a proprietary tech or build an in-house. On the other hand using an open-source or a combination gives them an edge to improve their services or integrate it better with other technologies such as cloud. Using open source AI is giving banks a competitive edge by enabling faster innovation through in-house development or collaboration with other technology providers to manage customer data, services, operations, security and personalise experience models. One such example is FintechOS, an open-source operating system for FinTech and banking organisation harnessing the power of AI to manage data and automate processes. This enables banks and insurance companies to enhance customer experience with intelligent automation as well as offering hyper-personalised services and products.
Telecommunications
The complexity of managing communications and the deployment of new services such as software-defined wide-area network (SD-WAN), network functions virtualisation (NFV) and other technology paradigms require intelligent network operations in terms of planning and optimisation. AI and ML tools are a key in automating the operations and enhancing customer experience. The Network Automation processes such as the Open Networking Automation Platform (ONAP) incorporates AI techniques to deliver timely and reliable operations. Open source AI is also empowering telecom operators in the implementation of 5G. For instance, Ericsson a Swedish telecommunications company is working towards modernising telecom network with open source AI and ML. The company started its Global Artificial Intelligence Accelerator (GAIA) wing in India to leverage AI and develop self-healing and self-governing network platforms. Ericsson is also a contributor to Openstack, CNCF and LF Edge.
It seems interestingly clear that Open source AI systems are becoming a new norm in the AI projects on a large scale. Over time with the growth of technology and extensive use of open source in the development process we could see applications develop in the order of magnitudes in the coming years. We at Quytech deliver AI integrated applications and leverage AI/ML to deliver high quality solutions. Get in touch with us for your custom AI application requirements.