Incorporated in the year 2010, Quy Technology Pvt. Ltd. is known for a passionate leader in enterprise mobility solutions. The company creates customer centric apps with the blend of innovation & latest technology. The major services of the company include Mobile app development on Android & iOS platforms, Augmented & Virtual Reality based Development solutions, Cross Platform App Development etc.. Quytech Also provides dedicated resources to all kind of Mobile app demands. The company works with Startups & Enterprises with utter transparency. We are a brand name as far as Augmented & Virtual Reality Development is concerned. We provide end to end solutions starting from conceptualization to deployment and support.
Recently, Quy Technology Pvt. Ltd. was announced as one of the top 10 Augmented Reality App Development Companies in New York by one very famous international platforms topappdevelopmentcompanies.com. It is such helpful platform which gives opportunity to all the companies out there to be recognized. It helps the both companies and clients to choose the right company and gives fair chance to grow. They researches well and take out genuine information of the potential companies. They publish this information on their platform in the best possible way. We are thankful for finding our potential gave chance to serve more clients.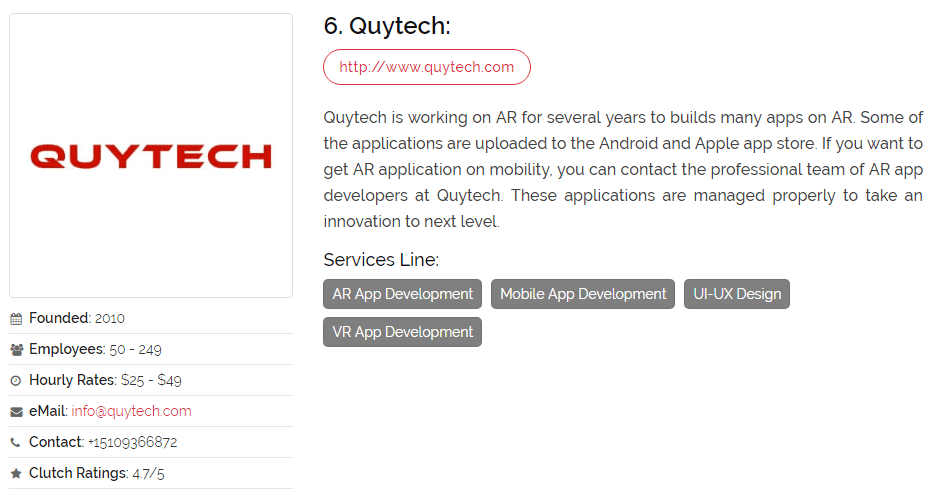 This is an online platform that promotes top app development service providers around the world to help people who are looking for best app developers in their nearby area or in any country around the world. Purpose of this website is for buyers to find right and good companies for their app development projects. Also for buyers, it will be easier to compare costs and timeframe amongst companies and choose the right Suitable App Development Company. This website will help buyers to develop their apps at quite competitive price.