App world is growing with an attempt to improve the customer services. After the introduction of AR-enabled mobile apps, financial services are moving ahead towards another level. The world of Augmented Reality is trying to incorporate many of those same technologies into bank services. Here question arises "Will Augmented Replace the Bank Branch?"
In last few years some potential steps have being taken to transform the financial services industry for long term benefits. One of the examples is National Bank of Oman let customers find nearest ATM or branch with the help of AR.
AR in financial services is helping big banks to strengthen their current systems of operations. With the help of AR interface, important data-driven decisions are taken quickly and accurately. Visual representation of large quantities of data through more intuitive AR solution can be beneficial for analysts.
Helping enhance productivity of employees, Augmented Reality financial Applications provide a direct or indirect view of a physical, real-world whose features are amplified by computer-generated perceptual information.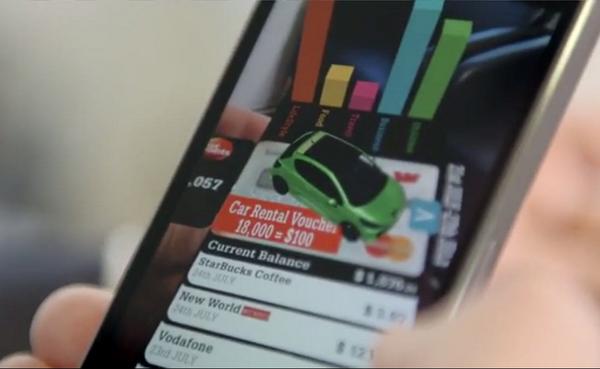 Credit card
The finance sector is more focused to implement Augmented Reality for better customer experience. AR app aims to help the payments brand stand out in the market by educating cardholders. The AR app can scan the cardholder's debit/credit card and engage them with the content to offer a more immersive experience than other media. Through such an approach the financial service provider personalized marketing message to connect with consumers while broadcasting multi sensory branding in the market.
Last week Mastercard launched its new augmented reality app, bringing experiences, everyday value and peace of mind to life
Data Analysis
Talking about Data Visualization, to visualize information is an important tool that helps bank traders to make important decisions. Huge information about wealth management especially in financial industry is really complex as lot of data is analyzed. Here AR improves the experience and makes it easier and faster to visualize and organize large amounts of data.
Customer Service
Bank is all about providing services and many financial institutions are also using AR to help improve the experience of their customers. Focusing on customer many banks have AR apps that can scan the area with their phones and see real-time information about location, distance, and services at nearby banks. Apart from that bank using AR solutions help customers to find the nearest banks and ATMs in a city.
Virtual Trading
As AR is our future so the advance options of augmented reality in retail banking can provide assistance to banks as well as to the customer. Such as by creating virtual reality workstations for trading can create a common platform for a virtual experience.
This type of workstation offers services that add strength to the bank's existing processes. Banks uses augmented reality in their wealth management software to give users better access to services and trading tools.
Security
Security is the highest priority for customers therefore in order to create a more secure customer experience; biometric security could be introduced in an AR system.
By doing this the customer can get connect with a real world with updated facilities. These could be used to access AR bank services, make ATM transactions, or make payments.
Wrapping up
As technology continues to evolve adjacent realities becomes more mainstream. Banks will have to keep up in order to attract and retain both customers and employees.
As we know that technology can also be extremely effective in emerging markets. And due to that trust in banks and bankers is increasing. But we cannot ignore the fact that there are fewer visits in bank branch due to smartphone having AR financial Applications. So creating an immersive, comprehensive banking environment using a smartphone, could provide a service to rival that of a traditional branch, requiring less time and cost.
If you are looking for ar app development firm in India, then Quytech is the right choice. With the ar app development, you can easily get entire control over your business. Quytech is highly popular for creating a niche in different industries. Contact us at Info@quytech.com