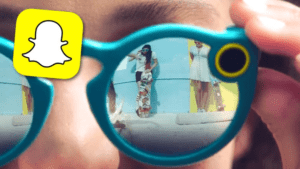 Snapchat (rechristened to Snap Inc.) has more than 150 million daily active users (almost 15 million more than Twitter), but will no longer just be a mobile app that self-deletes photos after a few seconds. CEO of Snap Inc., Evan Spiegel, has announced the release of their first hardware product in the form of video-sharing glasses labelled "Spectacles".
The visionary CEO came up with the Snapchat app with the aim that it will delete content, enabling casual social networking with a certain degree of privacy. And, with a similar vision, Evan has now identified an opportunity in a space where Google Glass did not do so well.
The first look at these new glasses from Snap Inc. may give you the impression that they are simply another pair of sunglasses. But, these camera-enabled glasses possess the ability to record up to 10 seconds of video through a simple tap. So, while Snapchat changed the way millions of people connect socially, despite the presence of Facebook and Whatsapp, Spectacles are aimed at changing the way we film videos.
In this article, we take a look at the various key features of Spectacles that will enable video recording in a different manner.
Overview
Snapchat's Spectacles are wirelessly connected sunglasses which film video snippets that are automatically saved to your Snapchat Memories. You can then opt to share these videos with your Snapchat's account story so that others can view the same.
The glasses are more like a GoPro than the face camera that Google Glass tried to be. Also, Spectacles will be more easily accessible as it is available at a fraction of the cost of Google Glass.
As per the announcement by Snap Inc. in the Wall Street Journal, the smart sunglasses will sell for approximately $129.99 and will be made available this fall in one size (that fits all) and three colours (teal, coral, and black).
How Spectacles Will Work to Record Videos
Ease of Use
One can simply wear the sunglasses and tap the button on the top left-hand corner to start video or snap filming, which will automatically stop after 10 seconds. However, it is possible to tap the button again and have another 10-second increment to insert additional recording time of up to 30 seconds (the longest video duration possible). And, you can keep your hands free while the video is being filmed, unlike using other smart devices for video recording on the move.
Instant Notification About Video Recording in Progress
As you film the video on the go, an inward-facing light turns on, along with an outward-facing light that alerts people who are being captured in the video (from your field of vision).
Ability to Function Independently
Spectacles can fill in as a stand-alone device as well. So, you need not always have your phone around to transfer the videos to your Snapchat Memories. The camera-equipped sunglasses can store the videos easily till you connect with your smartphone again (WiFi connection for Android and Bluetooth or WiFi for iOS).
Relieving Snapchat from Smartphone's Camera
These new smart sunglasses from Snap Inc. enable access and control to a physical camera for Snapchat, instead of making it a slave to the built-in camera of your smart device. This camera comprises a 115 degree angle lens, which is quite wider than the built-in lens of smartphones.
More Human Experience
The videos that one can record using Spectacles are said to be much closer to the actual experience. The reason being that the lens (embedded in the sunglasses) is much closer to human vision and its natural field of view. Thus, the video is able to capture videos that are not rectangular, but circular.
Evan is confident that when you look back at your recorded videos, the images generated will be fundamentally different compared to normal videos and bring you far closer to the experience you had while filming the video. More importantly, you would be able to enjoy the experience in real time as well, since there would be no smartphone acting like a wall between you and the real things that you capture. Thus, Snapchat Spectacles are aimed at enabling you to relive the experience twice: once in real time and again when you look back at your recordings.
We won't know how Snapchat Spectacles will actually perform till they are released later this year. However, we are now aware of the objective of Snap Inc. and the thought process that went into developing this hardware product. Clearly, Snap Inc. attempted to make the process of recording a circular video as easy as possible, while people are on the move. And, the design of the camera has been made so the videos look more like how the human eye sees.
We hope the above details shared about Spectacles prove valuable to you. Please feel free to share your feedback or queries in the comments section below.
Enterprise Mobile App Consultant Service Inquire now