With hospitals and other medical facilities inundated with patients, getting remote consultations through different telehealth platforms is becoming the talk of the town. Most of the medical professionals are finding it the easiest way of providing consultations, giving prescriptions, and monitoring their patients' health. Likewise, patients are also considering telehealth platforms as a perfect way to connect to the health specialist all over the world.
Yes, they don't even need to step out of their homes; all they have to have is a smartphone with an internet connection and a reliable telehealth app installed on it. Merely by creating a profile, they can connect to a gynecologist, dermatologist, cardiologist, Epidemiologist, and other healthcare experts.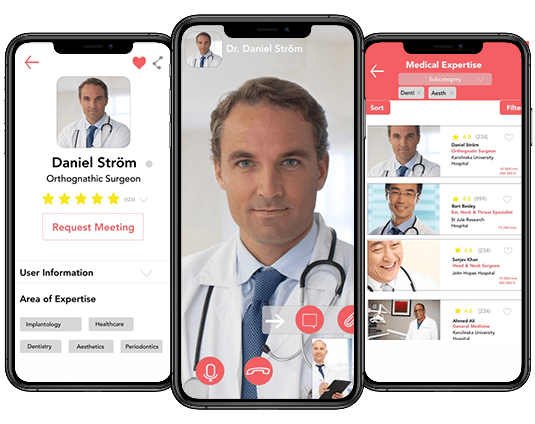 On one side, this growing trend is helping the medical professionals to treat their patients virtually (even from their homes). On the other hand, it is assisting patients (seeking medical advice or care) to avoid driving miles to reach a facility just to take medicine for minor cough, cold, or other health problems. They can do it by the tap of their fingertips.
Considering the benefits telehealth renders to both the patients and doctors, it would be no wrong to say that it would undoubtedly transform the industry in a few years. Let's have a look over the telehealth statistics to have a better idea of its popularity:
According to reports, the virtual healthcare market in the USA alone is expected to be worth USD $3.5 billion by 2022.
The global telemedicine market is expected to be worth $66 billion by 2022.
The upcoming trends in this technology will make virtual doctor visits as the new normal and also reduce the wait-time almost completely. Here are some of the trends we can expect to see in this technology:
More Focus on Virtual Clinical Trials
Telehealth would contribute majorly for the clinical trial of certain drugs or diseases. The technology will boost more clinical trials by making the participants wear remote monitoring devices while sitting at their homes. Medical professionals would be able to conduct more clinical trials without being restricted by geographical boundaries.
Stronger Physician-Patient Relationship
Besides keeping a record of patient's health history, the telehealth apps can be expected to have features that can allow doctors to view updated data such as heart rate or blood pressure. Depending on that, doctors can advise the patient a prescription or to visit the medical facility for the treatment of the issue.
Focus on Developing More Pediatric Telehealth Platforms
Rendering healthcare services through telehealth saves a considerable amount of time. Moreover, it also allows a patient to get immediate services without visiting a hospital. Telehealth is not only for the adults; in the upcoming years, we can expect pediatricians to make the most of this platform just as any other doctor. There could also be the rise in the development of telehealth platforms explicitly dedicated to pediatricians.
The Rise in Remote Patient Monitoring
Remote patient monitoring (RPM) is a trend that people are gradually adopting. In the upcoming years, we are expecting a massive rise in this trend. RPM will also help to control chronic diseases and reduce hospitalizations. Patients would be able to connect to the specialists (without even visiting a medical facility) to get a consultation on various health issues. Similarly, doctors can also monitor their patients' health to make sure that their recovery is on track after the surgery.
Read More: Video consultation app for doctors
Focus on the Security of Telehealth Platforms
Healthcare units and hospital have a humongous amount of data; hence, they are one of the prime targets of the cybercrooks. Therefore, telehealth platforms will pay attention to the security of the applications. Focus on the tighter cybersecurity would also help in retaining and restoring data after a cyber attack or loss of power.
Healthcare Services to Be More Accessible for Inmates
Getting access to healthcare facilities is not as easy for the people in correctional facilities as it is for a normal person. The growing use of telehealth will increase the access of healthcare to inmates as well. For example- a doctor who treats gastroenterology patients in Ohio (that has around 29 prisons) says he sees approximately 150 prisoners a year using telehealth platforms.
Read More: 5 Advanced Features You Can Consider While Developing A Healthcare App
Telehealth Will Become a Base Benefit in Medical Advantage Plans and Policies
It is expected that most of the health insurance providers and the government's healthcare policies will include telehealth in the plans. Patients will be able to claim when they receive healthcare services through this platform.
Focus on Niche Care
In the upcoming years, we can niche care to get more decentralized. Wondering why? Well, most of the organizations are partnering with the local healthcare units and emergency care centers to offer niche care.
Read More: 18 Healthcare App Ideas You Can Consider Developing for Your Startup in 2020-21
Bottom Line
Telehealth is breaking down barriers patients used to face to get medical care. This merger of technology and healthcare is gradually removing hurdles such as time, distance, and availability. By means of various telehealth platforms, doctors and patients can connect in real-time while sitting at the comfort of their homes.
In the upcoming years, we can see niche care, rise in remote patient monitoring, focus on virtual clinical trials, and other trends in the telehealth industry. The growing trend of telehealth will also increase the demand for healthcare app development companies that can develop highly advanced applications for medical facilities and hospitals. If you are currently looking out for the same, then contact a medicine app development company like Quytech today!