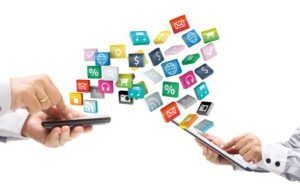 According to IDC, a leading market intelligence firm, 2013 and 2014 experienced a shockingly low enterprise mobile app adoption. And, 2015 was no exception.
Although there has been a growth, the numbers are still not impressive enough.
This is not because enterprise mobile apps do not hold any value for businesses.
It is rather because businesses fail to understand the potential of such apps and they do not know how to make such an app work for the betterment of their organization.
But, not everyone fails to see the benefit of enterprise mobile apps.
Look at SAP.
This leading enterprise app software provider has over 60,000 employees, which uses in-house mobile apps for their work-related activities.
And, this number is expected to rise to a whopping 80,000 employees later this year!
Carauster, a packaging company, also plans to deploy mobile apps for their 1,500 employees this year.
Do you think they are doing this without reason?
SAP started building enterprise mobile apps for its users in 2010. So, when other businesses are still in the decision-making stage, SAP is already winning the race.
Do you not also want to stay ahead of the competition?
If so, then read on as we consider whether an enterprise mobile app really makes sense for your employees and how your business can benefit from it.
This will also give you a clearer picture from an organizational point of view.
Better Collaboration
Enterprise mobile apps offer greater collaboration across all divisions and departments in an organization.
Whether it is collaborating with a division in another country or state or a field worker on the road, such apps really make it smooth.
You can even collaborate in real time. Is your collaboration process that dynamic at the moment?
Easy Access
When you are about to meet a potential client and suddenly realize that you forgot your important presentation, how would you access the presentation at that point of time if you are far from your office?
An enterprise mobile app is a savior here.
It helps you access any kind of data from anywhere and at any point of time.
Whether it is a sales transaction, client information or a presentation, you can access and even work on the information while you are on the move.
Increased Customer Satisfaction
Enterprise apps ensure that your employees have access to the information they need and this helps them to provide better customer service, including faster and better issue resolutions and response times.
Also, with quick access to information, they can provide more personalized opportunities and be better prepared for upselling.
Reduced Costs
One of the biggest advantages of enterprise mobile apps is that they eliminate the dependency on paper and ink which is expensive.
This helps you transform your old-school traditional process and paper forms into more efficient, eco-friendly and secure processes.
Enhanced Relationships
A healthy and positive relationship among peers is the key to the success of a business. And that is what enterprise mobile apps ensure.
It helps your employees keep in touch with their peers while at work and even after work and thus enhances the relationships between them.
Offline Access
Internet downtimes can happen at any time. You could even be at a location where internet access is limited or does not work properly.
In such cases, an enterprise mobile app is the only way to go, as it helps you work offline. You can access and collect data, even when you are not online.
Your enterprise app automatically synchronizes the data in the background and stores it on the device.
This helps you and your employees access the data in the app when you have no connectivity. Any data you capture is also stored in the cloud, so there is no chance of data loss either.
Improved Productivity
According to a study conducted by Verizon, 60.6% of employees acknowledged that mobile apps have increased their efficiency on the job.
Another report says that mobile apps boost employee productivity by 34%!
The reason for this is simple: Apps provide real value to the employees. They can automate the regular tasks and allow real-time collaboration.
Mobile apps thus ensure that your employees get the required resources on time and from anywhere. This makes their jobs easier and keep them satisfied and more engaged, leading them to do more quality work.
Statistics
If the reasons stated above are still not enough, then here are some statistics that should give you more reasons why you should embrace enterprise mobile apps now:
Mobile working can ensure 240 hours of extra productivity from your employees.
67% of IT professionals feel mobility will impact their organization in the same way as the internet did in the 1990s.
75% of Fortune 500 companies plan to deploy HTML5 mobile apps.
53% employees said mobile apps help them do their job better.
So, when do you plan to develop an enterprise app for your organization? Do you have any questions? Please feel free to leave your comments below and thanks for reading!
visit: www.quytech.com