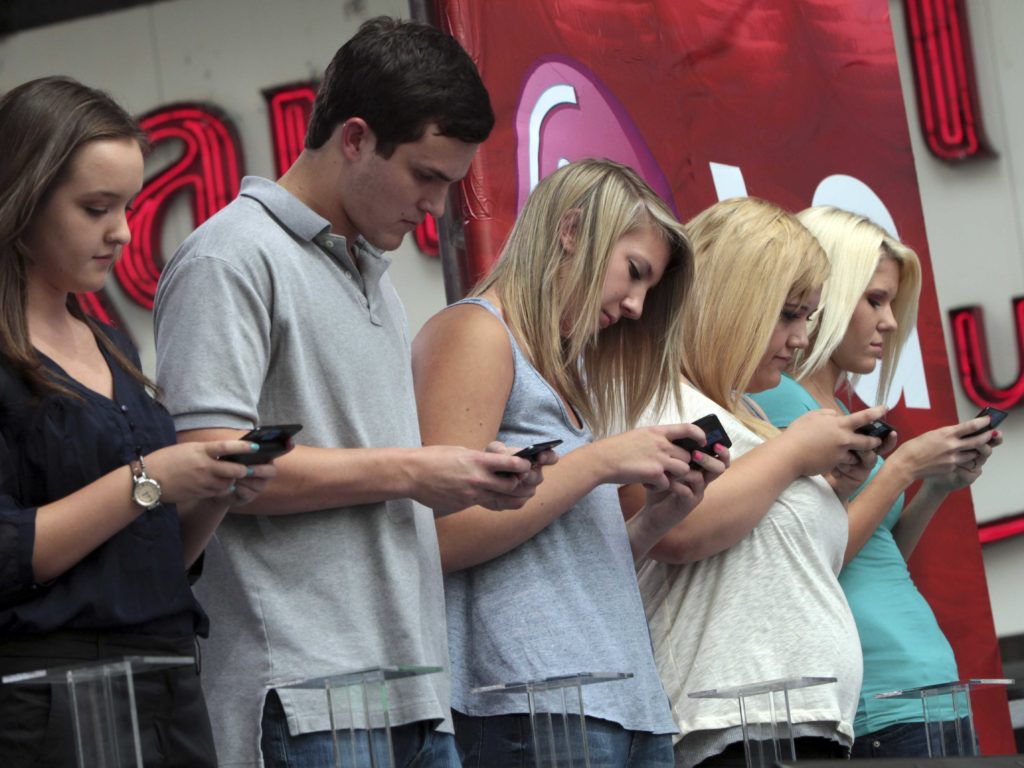 Image Source: Mobilelap
1. According to the latest research by mobilemarketringwatch, people in the U.S. check their social media accounts mainly Facebook, Twitter etc a staggering 17 times a day as comparatively less to smartphone users in Thailand, Argentina, Malaysia, Qatar, Mexico and South Africa who check 40 or more times per day.
2. Facebook consumes most of the time with an average of 42.1 minutes/day and Linkedin the least with 9.8 minutes/day. For more details on how much time each social platform is consuming you can refer the graph below: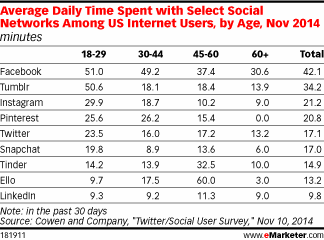 (Source: eMarketer)
3. Americans spending the most time per day on their phones with a staggering 4.7 hours which is one third of total day time if assuming a sleep of 8-9 hours.
4. According to Gallup report based on 15,747 members of the Gallup Panel who have smartphones, conducted April 17-May 18, 2015, 81 % of American smartphone owners keep their device with them nearly all the time and they don't just carry it around. 72 percent of the respondents claim to check their smartphone at least once an hour, most of them several times.
5. To my surprise, males are more addicted to their phones as compare to females as 12 % male check their smartphones with in every few minutes as compare to 11 % woman. Similarly 43 % males check few times in a hour while female % is 38 in this case. Check in graph below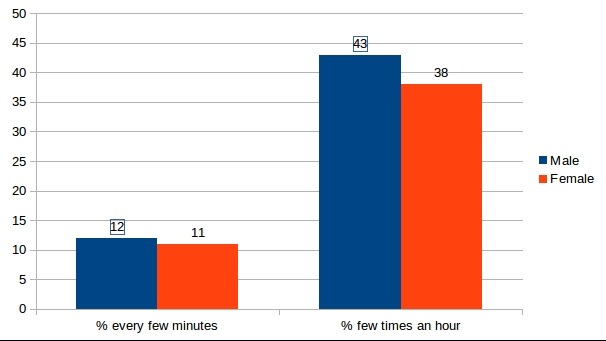 6. According to Business Insider report – Among U.S. Internet users, 73% with incomes above $75,000 are on Facebook (compared to 17% who are on Twitter).
Twitter: 27% of 18 to 29-year-olds in the U.S. use Twitter, compared to only 16% of people in their thirties and forties.
LinkedIn & Google+ : They are international and skews toward male users.
Pinterest is dominated by tablet users. And, according to Nielsen data, 84% of U.S. Pinterest users are women.
Instagram: 68 % of Instagram's users are women.
Tumblr is strong with teens and young adults interested in self-expression, but only 8% of U.S. Internet users with incomes above $75,000 use Tumblr.
In the last we can conclude that the usage of social media in smartphones is phenomenal & growing by each passing day. Small & Big companies spending in billions on advertising at social media platforms as it attracts huge crowd from all age groups. Devices like apple watch, google glasses has created new market in the wearable segment which will further push the usage of social media in these devices too.
What others are saying:
Half of U.S. Smartphone Users find Life without Smartphones Is Hard to Imagine by Laura Entis