The ecommerce industry has seen massive transformations since its inception. For example, just when the end users were getting used to the idea of shopping online, the concept of ecommerce mobile apps started emerging. Now, many ecommerce retailers offer their products on a website as well as on a mobile app, while some have gone the "app only" route.
But, that's just the beginning; technology keeps evolving and so does the digital retail scene. Online shopping companies need to look out for new innovative ways to engage their target customers. It is for this reason that you need to consider how Virtual Reality (VR) and the related apps can help you provide an enhanced and immersive experience to your consumers.
It will take time for VR ecommerce to evolve fully. But, those wishing to stay ahead of their competitors by adopting VR technology early should start understanding the ways in which it can help them provide a better buying experience to online shoppers.
So, in this article, we identify the ways in which VR apps can prove useful to ecommerce companies.
Closer to Reality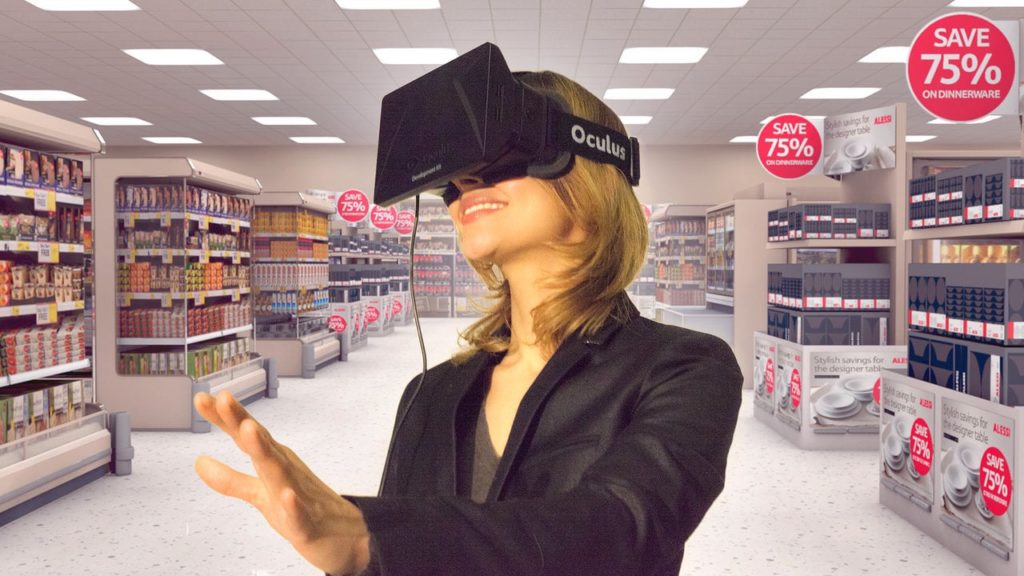 Many consumers prefer shopping via online sites or apps because they are convenient and save time. They also offer more possibilities to get discounted rates through cashback offers as well as coupons or vouchers.
However, many other people still do not shop online because they prefer the real experience of in-store shopping.
But, what if you could take your consumers to a totally different space in reality from the online medium? Well, that's the power of VR apps.
VR technology can allow consumers to enter virtual stores by using the VR headsets. They can then view online products, which look absolutely real, from all possible angles. The VR headset will even enable customers to see how an item would look on them (in case of clothes, accessories or footwear) or in their homes (in case of furniture). Also, the online retailers can considerably enhance the way in which their products are showcased to the potential users.
For example, IKEA is already working on creating a VR kitchen that will be visible to its customers, who can select a particular product for their use and visualize how it would look in their own kitchen.
All in all, VR apps enable you to provide a user experience that is as close to reality as possible. This could have a positive impact on the decision-making process of your target audience and help you get more conversions than online sites or apps alone.
Early Bird Advantage
There is so much competition out there that you have to be on your toes to get new customers and keep the existing ones. It is here that you can gain a decisive edge over your ecommerce competition by adopting an upcoming technology like VR as early as possible.
Every business will take time to adjust to a new technology. So, the sooner you get in, the faster you'll be able to take full advantage of VR.
For example, big players like Facebook, Google, Samsung, and Sony are already getting into the VR industry. VR-based devices, such as the Samsung Gear VR headset, Sony Playstation VR or Oculus Rift, have already started providing almost real experiences in the gaming and entertainment world. Even the Google Cardboard can quickly turn a smart device into a VR headset.
Even though some of the above examples are not relevant to ecommerce companies, it speaks volumes about VR's immense potential as identified by such global giants.
For a more relevant example, the renowned ecommerce player, Alibaba, announced the launch of GnomeMagic Lab, a VR research lab, earlier in 2016. Alibaba aims to integrate VR into the online shopping experience and extend full support to its merchants to use VR to sell products on the Alibaba site.
Also, fashion retailers Rebecca Minkoff and River Island have successfully tried out the Google Cardboard to show their collections via the headset mode.
If such retail businesses have already started taking advantage of the limited VR technology that is available right now, it makes sense to prepare yourself to adopt VR soon. The sooner you provide such experiences to your consumers, the faster they will get addicted to them and the greater competitive edge you will have.
As per the Reinventing Retail 2015 Report by WalkerSands Communications, around 35% of consumers claim that they would do more online shopping if they can try out products virtually. And, VR apps are ideal to offer such virtual shopping experiences to the consumers.
If the experiences are as real as possible with VR, you will likely get more conversions. At the end of the day, all that matters is customer retention and sales, right?
Reducing Product Returns
A major challenge faced by many online retailers is frequent customer returns. This is due to many online products not looking as they did on the site in reality and fitting customers differently. Such problems have led to an online shopping practice where consumers purchase items in different sizes or colours and then return the ones which don't fit well or don't look as they had imagined.
When consumers shop in-store, there is very little scope for product return. The selection is far more precise, after the customers tried out the product in various ways. So, it's no surprise that the rate of product returns is considerably higher online than in the offline world.
Now, VR apps possess the ability to provide a full visual experience to your customers: from how the product would look in real life to how they would look along with the product. This virtual experience can easily be personalized for each customer's exact body size, skin tone, layout of their home, and so on. Thus, the decision-making process will become a lot easier for the consumers who will buy the exact products they want, rather than trying out a few and returning the rest.
In a nutshell, VR has tremendous potential to revolutionize how ecommerce merchants show and sell their products as well as how the end consumers shop online. It is clearly the way forward as ecommerce stores will be able to bridge the gap between the physical and virtual world and provide a deep sensory experience to the end users. But, the question is whether you see VR as adding value to your online business and are you ready for it?
Please share your opinion on the topic of VR and its potential impact on ecommerce. Also, feel free to ask any queries in the comments section below.
Virtual Reality App development Services:   Inquire now