To be honest, mobile app development is not a child's play. Developers need to perform various tasks and go through different development phases to develop a successful and functional mobile application. Well, in this article, we have covered all the necessary factors that determine the cost of a mobile app development. So give it a read:
According to Statista, the Statistics Portal for Market Data, Market Research, and Market Studies, mobile apps are estimated to hit $188.9 billion in revenue (through downloads, in-app purchases, and ads) by the end of this year.
These figures clearly depict that consumers are relying heavily on mobile apps for shopping, travel bookings, food ordering, and other things.
So if you too are planning to develop a mobile app for your businesses, then these two questions might be on your mind:
Read More: 75+ Trending Mobile app ideas 2020
Factors That Affect Mobile App Development Cost
Mobile app development projects may take hours or years to complete, depending on various factors. These factors also contribute to the mobile app development cost, and hence, are defined in this section: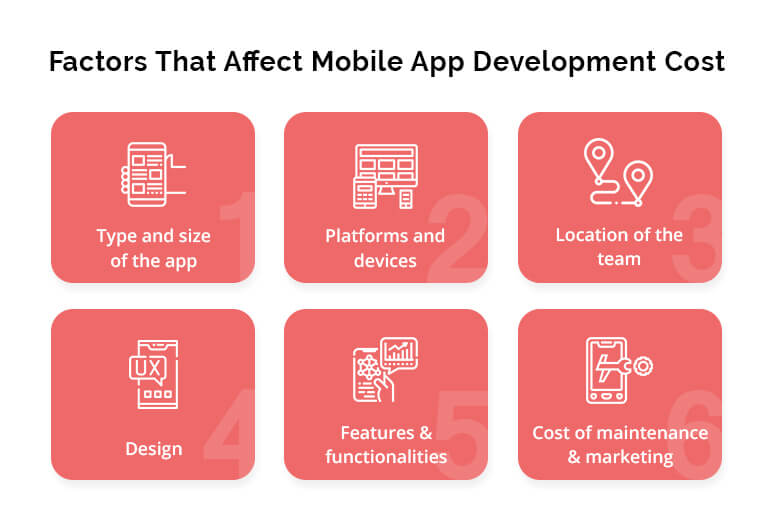 Type and size of the app
Platforms and devices
Location and structure of the development team
Design
Features and functionalities
Cost of maintenance and marketing
Let's read which factors affect mobile app development cost in detail:
Type and Size of the App
Mobile app development cost depending on the size and complexity, mobile apps are divided into three categories: small, medium, and large.
Small apps are meant for a single platform, have limited functionalities, and standard UI components. These apps don't require an API integration and backend development. For example, a weather application that is pre-installed in most of the smartphones.
Moderate apps are developed for a single platform but include custom UI and payment features. Apps that are built for more than one platform but are less complex also fall under this category. Sotheby's Apple TV app is a perfect example of the medium-sized mobile applications.
Large or complex apps have considerably more features (multi-language support, third-party integrations, professional design, custom animations, etc.) than that of the other two. These apps also require complex backend development to store and manage huge databases. Uber and Postmates mobile apps fall under the large apps category.
Wondering how much does mobile app development costs? Read here to know in detail all the factors that affect the cost of a small, moderate, and complex mobile application.
Simple functionality mobile apps
Native mobile apps
Mobile gaming apps
Hybrid mobile apps
Mobile apps mainly built particularly for a device hardware or firmware
Database-driven mobile apps
Platforms and Devices
Choosing the platform and device for which the app is being built directly affects the cost of it. For instance, developing an app for a single platform will cost less than the one for multiple platforms. Similarly, developing companion applications for connected TV and wearables will also raise the total cost of mobile app development.
The mobile app development cost for Android, iOS, or any other platform also varies. Another factor that is important to consider in this category is the device generation. Apps that are built to support older devices also require more effort and time, and hence, increase the cost of the mobile app development.
Location and Structure of the Development Team
The cost of mobile app development might be different while working with a large mobile app development company, a specialist app development firm, or an independent developer. In a big organization, there is a separate department to do different tasks involved in the development process and hence costs high. On the other hand, a startup or an independent developer offering you mobile app development services might be having only one team to perform every task, and thus, costs less.
Apart from this, the location of the firm or the team working on your project also impacts the cost of the development. A basic development team comprises a project manager, programmer, QA engineer, and UI/UX designer and an extended team includes 1 project manager, 2-4 app developers, 1 back-end developer, 1 QA engineer, 1 system administrator, and 1-2 UI/UX designers. So if the project size is big or the mobile app is complex, then it might need a big workforce, which will ultimately increase the total development cost.
Design of the Mobile App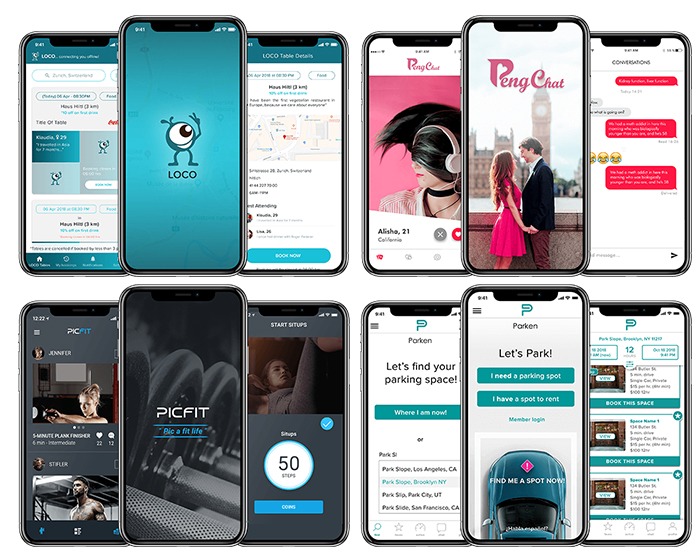 The design of a mobile app is the first thing your potential customers come across; hence it should be attractive and appealing. Mobile app designing comprises logos, icons, wireframes, user interfaces, and a lot of other things, which need to be placed correctly. Factors based on which designing cost increases or decreases are: experience of the designer, location of the designer, complexity of the design, and platform for which the design is to be made.
Features and Functionalities
Things such as deciding on the backend infrastructure, third-party service integration, choosing the right content management system, select various technologies come under the functionalities of a mobile application. Depending on the choice, these things may add or subtract the total cost of development.
Apart from this, if you add extra features to your mobile app, then its cost would significantly increase. Here are some of the features that businesses seek out for in a mobile app:
User login
Sign up through social media or email
Push notifications
Navigation
Chat or messaging
Portrait or landscape view
Geolocation
In-app purchases
Payment integration
Maps integration
The features may vary depending on the type of mobile application,.
Cost of App Maintenance and Marketing
These two are considered as an additional cost of the app. Maintaining an app means releasing new updates to upgrade the functionalities and features of the app, fixing out different bugs, and more. Apart from the maintenance, your app also needs marketing to let your targeted audience know about it and stand out in the competitive market.
Mobile App Development Cost
If you have your mobile app requirements, the cost of mobile app development goes between $15000 – $20000 for a small size app, $25000 – $30000 for a medium, and $50000 – $70000 for a complex mobile application. However, this cost may vary depending on your particular app requirements and the factors that have been mentioned above. , then reach out to a trustworthy mobile app development company or hire dedicated developers to start your app development journey.
FAQs About Mobile App Development
How do you protect my App idea?
Being in the services industry for over 10 years, we understand the business value of your product idea. We always encourage signing a strict NDA & IP agreement to make sure that your idea is safe within our corporate environment.
What programming language is used for mobile app development?
Choosing a programming language depends on your specific app requirements and the platform to which it is designated to release. The most used programming languages a custom app development company, such as Quytech, uses include Java, Kotlin, Swift, and JS (JavaScript).
Can I have sample designs completed before committing the complete work?
Top mobile app development companies, including Quytech, use advanced technologies, tools, and software to show you how your app design will look. By choosing us as your mobile app development partner, you can receive sample designs (3 screens) before committing the full work.
What all communication and project management tools your team uses?
For project management and communication, Quytech uses BaseCamp. For task tracking and time management internally, we use Zoho. To schedule video conferencing calls and presentations for weekly and project review meetings, we use GoTo Meeting.
What is the best way to develop mobile apps?
The best way to develop a mobile application is to find a reliable and experienced mobile app development company, like Quytech, that fits in your budget and offers high-quality mobile applications. You can also hire mobile app developers for your mobile app development project; however, it is further recommended to choose a trusted mobile app company that offers "hire dedicated developers" services.
In case, if you are developing an app on your own, then the best way to build it is by following the basic development process, which includes:
Ideation -> Building a working model -> choosing the right tech stack -> coding -> designing -> testing- >release
Conclusion
The demand for mobile applications is growing faster than a beanstalk and there is no finish line in the sight. We hope that our research has helped you know the cost of mobile app development in 2020. If you have some requirements related to mobile app development for the Android, iOS, or any other platform, then feel free to contact us at info@quytech.com.